G&G Magazine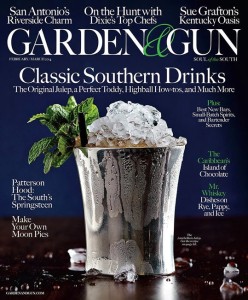 Pictured above is the current issue of one of my two favorite magazines, Garden & Gun (also available on amazon).  I've only read the article on drinks so far, but as always, its a great issue.  I'm a huge mint julep fan (I'm sure I'll do a whole mint julep post when it starts to warm up).  I bought some sorghum syrup a while back to try in cocktails in place of sweetener.  In the drinks article, a sorghum sweetened julep is suggested:
http://gardenandgun.com/article/antebellum-julep
I've had a brandy julep, and a julep made with white dog whiskey, but never one made with rum.  After reading the article, I think I'll try a more traditional recipe, but substitute sorghum syrup or simple syrup.
I also like G&G's sporting life coverage.  They review hunting lodges and vacation spots I'd love to visit.
This entry was posted in Books, Brown Sauce by rsiv with
Warning: count(): Parameter must be an array or an object that implements Countable in /home/bonviv6/public_html/wp-includes/class-wp-comment-query.php on line 405