Lee – Jackson Day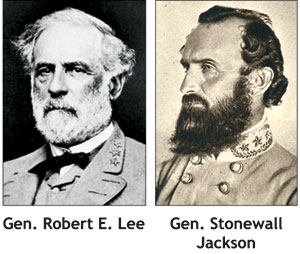 My recent post on Andrew Jackson got me thinking about another Jackson.  I sent out an email invite for the recent long weekend.  In the email, I called the weekend, "MLK Jr. Day weekend" since that Monday was a Federal holiday.  In reply, a buddy of mine (from Richmond) suggested that I had meant, "…the Lee – Jackson Day weekend…"  At the time, I assumed it was a joke, perhaps a friendly jab at my expense that I was not as southern as my buddy.  After doing a little research on the old interwebs, I found out that Lee – Jackson Day is still celebrated in Virginia.  I knew that Lee – Jackson Day had become Lee – Jackson – King Day.  What I did not know, was that in the year 2000, Lee – Jackson – King Day became two separate state holidays in Virginia:
http://en.wikipedia.org/wiki/Lee%E2%80%93Jackson_Day
http://en.wikipedia.org/wiki/Lee%E2%80%93Jackson%E2%80%93King_Day
So the bottom line is that Lee – Jackson Day is a currently celebrated holiday in Virginia, and the weekend was both the Lee – Jackson Day weekend, and the MLK Jr. Day weekend simultaneously.  Wikipedia states, "In 2000, Virginia Governor Jim Gilmore proposed splitting Lee–Jackson–King Day into two separate holidays after debate arose over whether the nature of the holiday which simultaneously celebrated the lives of Confederate generals and a civil rights icon was incongruous."
The compromise that was reached is confusing to me.  It seems that Virginia politicians have decided that Lee, Jackson, and King deserve to be celebrated, but that it is not appropriate to celebrate them together.  I'm not sure segregating the two holidays, but having them occur the same weekend, is the best course of action.  I don't think anybody (maybe some crazies) is going to question the merit of celebrating MLK Jr's day.  The merit of celebrating Lee and Jackson seems much more debatable to me.  My first thought is that if one believes that the Civil War (or War Between the States as I was taught in the VA public education system) was based on slavery (not everyone believes this to be the case, in school we were taught it was States' Rights), and that Lee and Jackson were fighting for slavery,  then one could conclude that Lee and Jackson probably don't deserve to be celebrated.  But then one starts thinking about all the American slaveowners that are celebrated.  For instance, George Washington.  He did not fight specifically for slavery, but he was certainly complicit in slavery.  So is participation in the fighting of the Civil War the difference?  Why can't Jackson and Lee be celebrated for their positive contributions to America, while we recognize, but don't focus on the fact that they were pro-slavery for at least some time, or at the very least, complicit (similarly to the way we view Washington, among others).
This got me thinking, and doing some research.  In my googling, I found an official proclamation from Governor McAuliffe:
https://governor.virginia.gov/commonwealth/proclamations/lee-jackson-day/
I found that proclamation by way of another Virginia-centric blog.  I haven't read his blog in its entirety.  I've really only read a few posts relevant to Lee Jackson Day.  I've included the links to those posts below to give credit where credit is due.  I have not watched the videos or followed the links on either page.  Be sure to check out the host's (his term) theme song (link on the left side of the page, awesome, makes me want a theme song).
http://oldvirginiablog.blogspot.com/2014/01/modern-governors-could-profit-from.html
http://oldvirginiablog.blogspot.com/2014/01/lee-jackson-day-who-is-it-good-for.html
So it seems Virginia recognizes Lee and Jackson for their service to Virginia during and after the war.  I'm sure that rubs some people the wrong way.  I'm not sure how I'd feel about it if I were black.  Perhaps next year, in observance, I'll visit a battlefield, or start a relevant book.  I believe I have biographies of both Lee and Jackson I haven't started.  For MLK Jr. Day, perhaps the Smithsonian's National Museum of African American History and Culture will be open by then.
(I've tried to make this post thought-provoking without being subjective or having an agenda.  I hope I've succeeded.)
This entry was posted in History by rsiv with
Warning: count(): Parameter must be an array or an object that implements Countable in /home/bonviv6/public_html/wp-includes/class-wp-comment-query.php on line 405