The Greenbrier, Babymoon, Falconry, Fly Fishing
My wife's company provides a stipend for employees to enjoy a babymoon (like a honeymoon but for expectant parents).  Friday morning, we put the top down and headed to West by God Virginia.  It was a beautiful sunny ride down, and since the drive was about 4 hours, I almost got too much color.  We chose The Greenbrier because we hadn't been in seven years, and its America's great resort.  Its absolutely beautiful, luxurious, delicious, comforting, and full of adventure (as you'll see below).  It really is a special place.
We enjoyed the decor, got settled, and then hit the pool for a late lunch and some mountain sunshine.
For dinner, we went to Draper's.  I went with some amazing chicken and waffles and the wife had a pot pie.  Everything, including the service, was excellent.
This was our first trip to The Greenbrier since they added the casino.  I was a little skeptical when I heard about the addition, but it was well done and enjoyable.  After my first proper julep (though The Greenbrier insists on serving their julep with a full length plastic straw – they could at least cut it to proper length), we saddled up to the craps table.  We just about doubled our money and decided to celebrate with some Blanton's and a cigar.
We'd only been at The Greenbrier for ten hours, but we'd already had a great time.  We couldn't wait for more pool time, falconry, fly fishing, food, and more fun.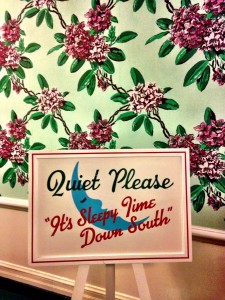 Day two started with Southern Eggs Benedict with fried green tomatoes and Virginia ham.
My wife and I have talked about trying out the sport of kings for a while.  Since my wife can't shoot, ride horses, etc., due to her pregnancy, we finally had a great reason to check it out.
The scale that the hawk is perched on was one of the most interesting parts of the demonstration.  Only hungry birds will hunt, so their weight has to be monitored.  We also found out that a Harris' Hawk can be trained in only about 8 weeks.
Falconry consists of the handler walking around, trying to scare up prey, while the hawk perches above and watches.  Hunting with larger birds can involved separate handlers and flushers.
When the hawk makes a kill, it shields its spoils and is very possessive.  Its important for the handler to quickly offer meat to the hawk in order to get possession of the kill.
We had a great time and learned a lot about falconry.  My favorite was the owl.  Apparently, an owl could help me with my feral cat problem at home…  The falcon definitely looked the coolest.  After Falconry, we relaxed at the pool until tea time.  This flowah was wiltin', so I opted for iced tea.
After tea, we changed for dinner.  It was great that The Greenbrier provided a garment brush since my shoes picked up a bunch of fuzz on the trip down.  This was the night of our dinner in the main dining room, so we put on our best, took some pictures, and enjoyed some libations.
I'm surprised my wife didn't get a dress code reminder card for wearing camo:
At dinner, I opted for a julep rather than a glass of fine.  Then I ordered some lamb, which unbeknownst to me, came with mint jelly.  It actually paired pretty well.  The live jazz was also an unexpected but welcome accompaniment.
After dinner, we lost the previous night's winnings and then some in record time at the craps table.  With the table cold and it still early, we grabbed our kindles, poured some blanton's, and picked out a cigar.  The porch below provided an excellent location to enjoy the evening.  It had cooled off, and was beautiful out.
The fountain below used to be outside of a restaurant at The Greenbrier that no longer exists.  My family did a 12 course tasting menu with wine pairings there once.  It was the first time my future wife and mother got tipsy around each other.  It reminded us of that great time we had and we were glad its still there.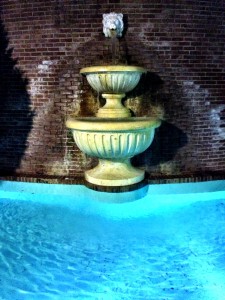 Day Three started with a Dorothy Draper omelet (Virginia ham, green peppers, shiitake, American cheese).  We had a leisurely morning in the hotel, and then went down to the outfitters' for our excursion.
Another activity we'd been wanting to try, and that pregnant women can do is fly fishing.  Our instructor, Demian, taught us the basics of roll casting, and then quickly got us on a picturesque stream.  It was a little colder than usual, rain was coming in, and it was overcast.  It wasn't the best season for fly fishing, but the conditions weren't bad at all.  It couldn't have been more than fifteen minutes before I landed a fish.  I was able to keep good tension on the barbless hook by stripping the line, and after a short fight, I netted my first fish on the fly ever.  Just a short while after that, my wife hooked up.  Demian was over with me still, and after setting the hook, she yelled, "Fish on!!!"  Demian laughed, and hustled over to give her a hand.  A few hours later, we'd caught 14 fish between us.  I credit Demian's teaching abilities and skill at his passion.  HB initially struggled with keeping the rod bent and tension on the line, but he was able to show her how to successfully bring in a fish (and she landed plenty).  He was quick to switch out flys that were not hitting, and deftly handled any snags we caused while figuring out the cast.  We really can't thank Demian enough (though the last thing I need is another expensive hobby).
I have a friend that offered to teach me fly fishing if I taught him sporting clays.  Now that I know the basics and have landed a fish, I might have to take him up on his offer.  The weather had held out, so we changed for dinner and went out to our sitting spot.  I'd finished the book I brought, The Paris Wife, and decided to start on A Moveable Feast (to get both sides of the story).
I thought the picture above was an interesting juxtaposition of old and new.  Not unlike The Greenbrier itself.
We'd had such a pleasant dinner at Draper's we almost went back.  Instead, we decided to give Cafe Carleton a try.  My wife did the prix fixe option, and I order a charcuterie plate.  Both were very good, as was the wine flight: No one expects the Spanish Libation.  The food was spectacular, and our waitress, Jennifer W was a lot of fun and made great recommendations.  After a decadent meal we played the rest of our comp'd slots and then played a few hands of roulette.  Nothing hit, but I optimistically reflected that I'd rather be lucky on the trout stream than in the casino.
We ending the night by participating in an old Greenbrier tradition.  I won't explain it, as the text in the picture below should do so better than I could.
We decided not to mess with success, and went back to Draper's for our last breakfast at The Greenbrier.  I had the Springtime omelet: jumbo lump crab, asparagus, and brie.  Our waitress on our last day was not rude, but was not particularly chipper either.  Everyone has off days.  However, our first waiter, Adrienne came over to greet us.  He has noticed that we'd been there three days in a row.  He was very friendly, and at least on that day, was a beacon of cheerfulness in a sea of frowns.  Adrienne truly improved the quality of our stay.
Later that morning, my wife went to the spa for a prenatal massage and I took my kindle and coffee down to the pool.  An elderly lady (lets say at least 75) was swimming lap after lap, and inspired me to swim a few.  I got a little winded, but lets blame that on all the booze the night before.
After a short walk, we packed up and checked out.  At reception I heard a gentleman say that he had been since the 4th of July and was staying until Labor Day.  I was more than a little jealous.  HB and I took one last look, and headed off to our next adventure.  I don't know how soon, but I know the three of us will be back.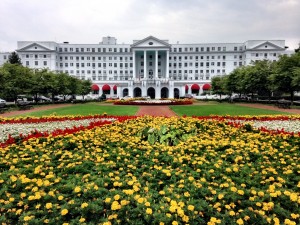 This entry was posted in Books, Brown Sauce, Cigars, Food, History, Hunting, Sport, Style, The I-talian Woman, Travel by rsiv with
Warning: count(): Parameter must be an array or an object that implements Countable in /home/bonviv6/public_html/wp-includes/class-wp-comment-query.php on line 405