Taking an infant to the National Gallery of Art in DC, Derby Day at RP and Jodi's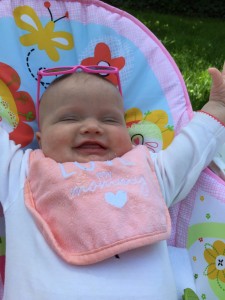 I'm about as excited as EF that its finally Spring.  On Saturday, we woke up and headed to DC.
This was EF's first trip to a museum, so we were a little concerned about logistics, bothering others, etc.  As it turns out, things couldn't have gone more smoothly.  EF slept on the 1.5 mile walk from our friends' place to the museum.  Then she was up and alert for the museum.  The National Gallery of Art let us use our own stroller, so we didn't have to worry about checking it and carrying EF's bag.  The staff at the National Gallery of Art were incredible nice and accommodating.  When EF was crying and wouldn't take her bottle for a moment, a security guard approached us.  I assumed he was going to tell us to take her outside or to a bathroom, but instead, he pointed out a bench HB could rest on while she fed EF.  EF was very well-behaved overall (and HB did a great job keeping her happy and quiet), but the staff at NGA were very cheerful, helpful, and seemed sincerely happy to help us even when EF was momentarily fussy.  I doubt that EF disrupted any one individual's enjoyment of the gallery for more than 20-30 seconds, and I didn't notice any dirty looks or expressions of annoyance.  It seemed ambitious at first, but the trip was a huge success.  We'll definitely be back soon.
The last time I saw paintings of Venice, Rome, and other similar beautiful locations, I hadn't been.  Its really amazing to see how well the overwhelming scale and detail of a place like St. Peter's Basilica can be captured in paint.  The basilica is staggering in person.  I've never seen a photo that begins to do it justice, which makes Panini's painting all the more impressive.
HB's favorite artist is Mary Cassatt.  I call the photo below Mother and Child on Mother and Child.
I didn't think EF would get much out of the trip, but I was blown away by how much she seemed to enjoy and appreciate it.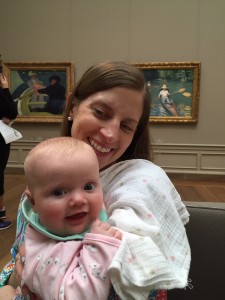 I was in the room below, thinking that it must be one of the most beautiful places in the world.  Then an older and very well-dressed couple came in.  The man turned to his companion and gushed, "This room! "  His expression was one of joy and bewilderment.  The woman, never taking her gaze from the walls, simply said, "I know…"  I was having a moment of my own, and then really enjoyed seeing others have such a similar reaction.
After about an hour and a half of wandering the gallery, we had lunch by the waterfall.  HB had an affogato.
The tunnel between the two buildings may have been EF's favorite part.
EF loves a mobile.
After our great adventure, we walked back to RP and Jodi's for a derby day party.
EF was jelly of my burger.
My horse didn't come in, and my trifectas didn't pan out.  However, we'd had a great adventure at the art museum, and enjoyed great food and company at the party.  EF was tuckered out, and we headed home.
This entry was posted in Brown Sauce, Cigars, Embarrassingly effeminate by rsiv with
Warning: count(): Parameter must be an array or an object that implements Countable in /home/bonviv6/public_html/wp-includes/class-wp-comment-query.php on line 405