Hinton WV, Sandstone Falls, Bluestone Lake, Pipestem Resort, Smooth Ambler Distillery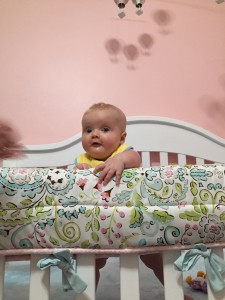 Lil Biscuit was looking to get out of dodge, so we headed out to Hinton, WV.  Its a fairly long drive, EF's longest to date, so we stopped at a cracker barrel to break up the trip.
After a huge meal, a few more hours on the road, and a quick stop to change a dipe, we arrived at my Aunt and Uncle's place.  I pulled some scallops and steak out of the cooler and got started on dinner.
The next morning EF and LeBeef enjoyed the view while I whipped up some breakfast.
The forecast for the days we were there all looked iffy, but it was warm and dry, so we went down the mountain to rent a pontoon.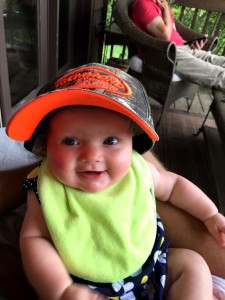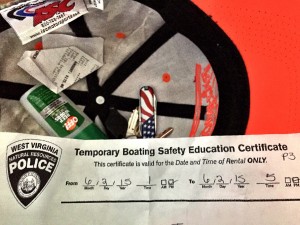 EF wanted to go fast, so I let her drive.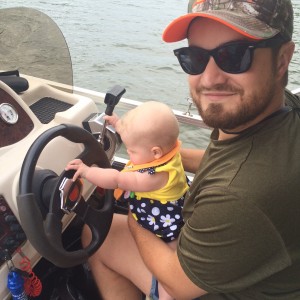 After the boat ride, which was a great success, we grabbed a couple pizzas and headed home to enjoy the view.
The next morning we had some breakfast, but HB wouldn't let EF have any bacon.
When the local police response time is over an hour (estimated), you have to be prepared with triple aught magnum buck.  Fortunately, we didn't have any visitors.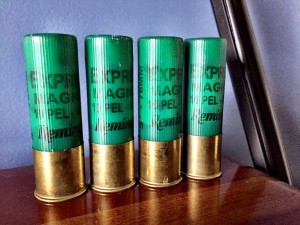 We enjoyed the short drive over to Pipestem State Park for a quick 9 on their par 3.  I was thinking we should go to Pipestem with the Lambs as its a really cool place, and only a short drive from Rainelle.
It was a really fun and challenging course; the perfect way to spend a couple hours.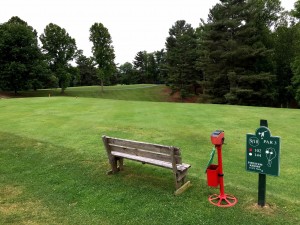 Even though it was a little late in the afternoon when we got back from golf, we headed over to Sandstone Falls.  It was beautiful, and we got there at prime fishing time.
I managed to hook up pretty quick, and got a small largemouth on a popper.  Then I switched to a some streamers and wet flies, but struck out.  It was an amazingly beautiful place to fish.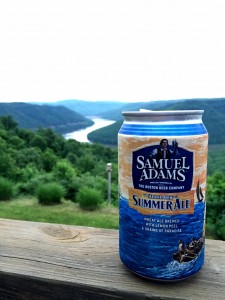 FJ made some delicious burgers, and we watched the sunset.
We were having so much fun we decided to stay an extra day (LeBeef was outvoted).
After breakfast, we headed into Lewisburg for lunch.
My Aunt and Uncle like Stella's, and I can see why.  The coalminer's daughter tried a miner's daughter.
While trout eluded me at Sandstone, it did not disappoint at Stella's.
After a really good lunch, we drove over to Smooth Ambler distillery.
We were greeted by Admiral Pickles, and given a tour by Val.  EF ponied up to the bar to learn about Smooth Ambler.
Smooth Ambler is a pretty young distillery.  The source a lot of the bourbon (as it takes four years to age minimum, but in the meantime, they've put out a lot of interesting products.  I really like their aged gin.  Their wheated whiskey also tastes promising.  Val gave a great tour, and we'll definitely try out their future products.
On the way home, we stopped at the Big Wheel in Alderson for an ice cream cone.  Errbody but HB got butter pecan.  HB got birthday cake.
When we got home, we decided to really enjoy our last evening on the porch.  I spread creme fraiche on some blinis, and realized I had no mother of pearl spoon.  I grabbed EF's spoon in a pinch, and added the caviar.  Then it was time to pop some champagne.
For dinner, we had heavy canapes.  It was quite a spread.
After dinner I opened a bottle from Smooth Ambler, and lit one of my favorite cigars.
The next morning it was time to head home.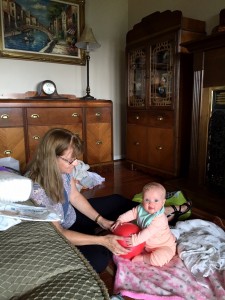 We cleaned and packed up, and headed down the mountain to have lunch at Kirk's.  HB ordered a hot dog with sauce, onions, and mustard, and I ordered the same.  Shes an honorary West Virginian now.
It was a great trip.  We all had a great time, and I really think EF got a lot out of it.  We look forward to bringing her back.  Next time we'll have to visit when my relatives are in town.  Thanks again to Uncle L and Aunt C for letting us stay at their amazing home!
This entry was posted in Brown Sauce, Cigars, Fishing, Food by rsiv with
Warning: count(): Parameter must be an array or an object that implements Countable in /home/bonviv6/public_html/wp-includes/class-wp-comment-query.php on line 405