Fly Fishing Holmes Run, Champions League Final at Public House No. 7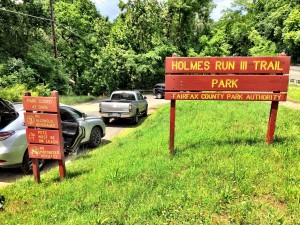 We got back from our WV trip on Friday.  I still had the fishing bug, and HB and LB wanted some exercise, so the family headed over to Holmes Run.  A buddy had told me that he'd seen browns at Holmes Run about 10 days previous to our visit, so I thought there might be a few trout left in the warming water.
I walked down to the creek at the first access point and saw plenty of lines stuck in the trees, so I figured I must be in the right place.  I did get a bite, but I wasn't quick to set the hook.  I spent about 20 minutes here before moving on down the creek.
I tied on a fly from my Big Y Fly Company 10 best trout flies selection.  It wasn't getting down far enough on my floating line, so I added a small split shot to my line about a foot over the fly.  I also was using a thingamabobber strike indicator from orvis.  I could see the fly in the good sunlight, but in the shade I had to rely on the indicator.  At about the third creek crossing on the trail, I cast out to a dark hole a few times (on HB's suggestion), and after a few casts and nibbles by smaller fish, I hooked up.  HB yelled, "Fish on!"  I reeled in a small, non-trout but unknown, fish.  We didn't manage to get a good picture of it, as I was trying to get it back in the water as fast as possible, but you can tell from the color and shape that its no trout.
A few minutes later, I hooked up again near the same hole.  This time the fish looked much more like a trout, though it was only about 4 or 5 inches long.  I'm not confident it was a trout, and again I didn't get a great picture.
I hooked one more fish, but it threw the hook before I could reel it all the way in.  Then I saw a monster.  A 12 inch (minimum) brown trout, cruising upstream.  In my excitement, I slipped off the rock I was standing on and got snagged in a tree.  By the time I got the line free, he was gone.  Unfortunately, its just about the very tail end of the stocked trouts' lives in Holmes Run since the water is getting so warm.  I doubt I'll have another chance at him.
Since its been so warm, I was prepared to call this a scouting trip and expected to catch no fish at all.  As it turns out, I finally caught some fish on a wet fly, and even successfully used weight and a strike indicator.  I'm not sure I'm ready to call myself a fly fishermen yet, but I've got caught the fever, and I'm getting closer.
After our fishing excursion, we stopped in at Public House No. 7 to catch Barca play Juventus.
EF and I were on pins and needles, but Barca pulled off a definitive win.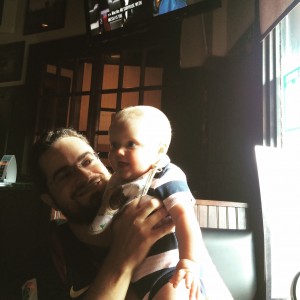 That evening LeBeef made some fancy cocktails and we had salmon on the grill.  We almost didn't go out because the forecast wasn't great, but that just goes to show you that without risk there is no reward.
This entry was posted in Cocktail Recipes, Fishing by rsiv with
Warning: count(): Parameter must be an array or an object that implements Countable in /home/bonviv6/public_html/wp-includes/class-wp-comment-query.php on line 405