Anniversary Celebration at Brine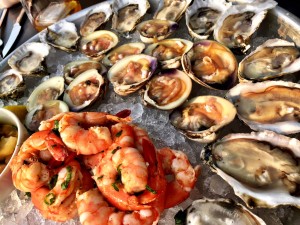 We thought about going to The Homestead or The Greenbrier for our anniversary but we just got back from WV and we're about to leave for the OBX, and Fathers' Day is coming up, so we decided on an easy dinner out.  I made a reservation at Brine, a fairly new restaurant with a good raw bar.  Then I thought I should pick somewhere HB might prefer instead.  But I realized that we really do like the same things, and Brine would probably be plenty fancy enough.  As it turns out, it was a great decision.  We started with cocktails.  HB got an awesome take on the Old Fashioned with Four Roses and chocolate bitters.  I got the margarita that won Margarita Wars in DC.  For food, we ordered the honey hole (12 oysters, 12 clams, 12 shrimp, and some awesome ceviche).  We also got an order of voodoo fries.
The local Rappahannock oysters were great, but surprisingly, not my favorite part of the assortment.  I enjoyed the oysters with Brine's really delicious mignonette and a squeeze of lemon.  For the clams, I poured some Tabasco sauce and added a pinch of real horseradish.  The clams, enjoyed in this way, were amazing.  I don't know if I enjoyed them, or the ceviche, more.  Everything was amazing, including the fries, which came with a great cajun mustard but were even better with the house-made barrel aged hot sauce.
After our cocktails we ordered a bottle of cava which was reasonably priced and delicious.  We ordered one dessert, but our waiter, Mike, brought out three since it was our anniversary.  Everyone we encountered at Brine was very welcoming and helpful, which is rare for a restaurant which as been open only so long, but even so, Mike was exceptionally helpful and friendly.  We were generous with our tip, and he earned every cent.
We had an amazing anniversary at Brine, and we'll definitely be back.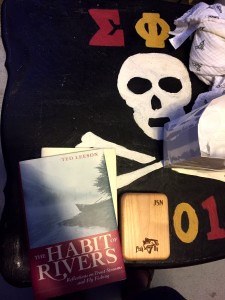 This entry was posted in FCC, Food, The I-talian Woman by rsiv with
Warning: count(): Parameter must be an array or an object that implements Countable in /home/bonviv6/public_html/wp-includes/class-wp-comment-query.php on line 405