Sweet Sticky Smoked Rabbit Recipe, Barbados Rum Punch Recipe, Opening Day at the Nats, Martin Motorsports (BMW repair in Alexandria)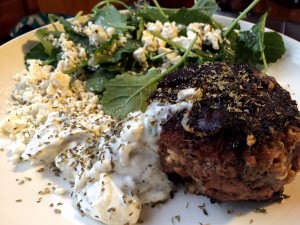 I've made some really good food the last couple of days.  The first was last week when I realized we had a lot of hummus and tzatziki leftover.  I instacarted some ground lamb, feta, and salad.  I pan fried the lamb burgers with some oregano, feta, and herbs de provence mixed in.  Then I just put some baby kale in champagne vinaigrette on the plate with the leftover dips, and we were in business.  I'll have to remember this recipe.  Its easy, fast, and delicious.  Then FJ took me to pick up the M3 at Martin Motorsports.  Gary has been taking care of my M3 for over a decade, and he is the best in the area.  He has done everything from oil changes to transmission replacements for me.  I cannot say enough good things about Gary or Martin Motorsports.
I enjoyed a small success in working from home some this week.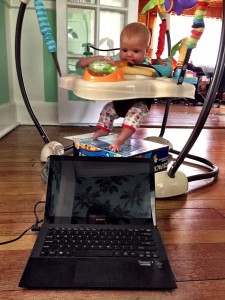 On Thursday, Lemuel and Caroline came in to town.  Caroline was headed out to Morocco with LeBeef.  Lemuel gave her a ride and then picked up a motorcycle in Charlottesville.  We had dinner at Gypsy Soul.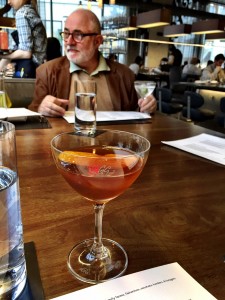 The food was decadent, and everyone had a great time.  EF was particularly good that night.  She was all smiles and hardly a peep.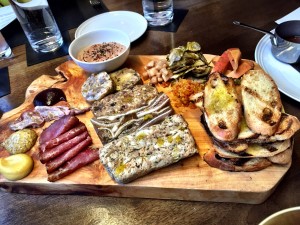 The fried chicken, steak, and mac and cheese were standouts.  The chicken and dumplings were pretty good as well, and I'd say my catfish rounded out the bottom, despite also being quite good.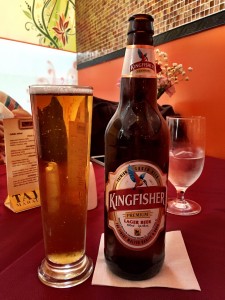 Friday, we started on a walk to Mad Fox, but a delicious scent of curry wafted through the air, and like a siren, it pulled us off course and to its door.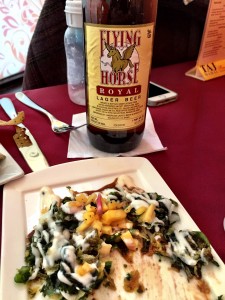 I ordered the Junglee Laal Maas.  The waiter asked if I liked spicy food, as its a very spicy dish, but before I could answer, HB interjected that not only did I like spicy food, we were insulted that they asked, and that they should try to serve me something too spicy just too see how futile it would be (or something to that effect).  I was then served the spiciest dish I've ever consumed.  I felt dizzy while eating it.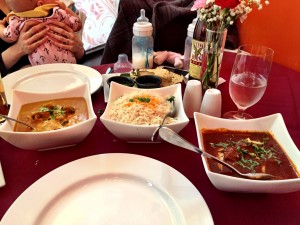 But it was so delicious, I even had the leftovers the next day…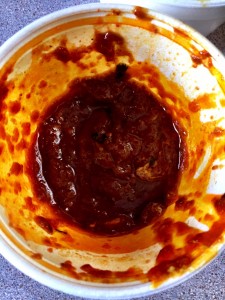 …but that was a terrible mistake.  I tried to preempt the inevitable by taking some peptos, but I learned my lesson about trying to play god with my bowels.  Nature must take its course and some things are not meant  to stay in the body.  My tum was not right for a long time, and I would get woozy off even one beer.  Something was not right.  I feel OK today (5 days later), but its taken me that long to feel right.  Moral of story (HB), don't taunt the waiter when he asks if you can handle India spicy.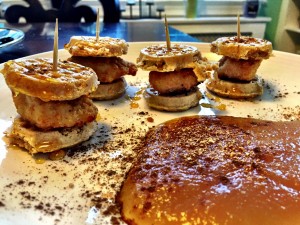 Later that week I made some chicken and waffle sliders with some WV apple sauce for breakfast.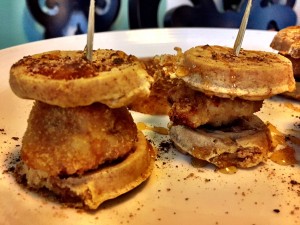 Since it was a nice day, I made some Barbados Rum Punch, and we got some salteñas and fried yucca for lunch.  For the rum punch, use mount gay eclipse (or at the very least, something aged), and freshly ground nutmeg.
Then we did a little porch sitting with a glass of mount gay eclipse and a bolivar.  I've been loving this spring weather.
On Saturday, we went to the farmers market and got some crabcakes for lunch.
Then I put my germinated tobacco seeds in plugs.  I'll post more about my tobacco crop later on, or search my archives about last year's harvest.
On Easter Sunday, FJ and I went to Jefferson to get a quick 9 in (yes I ended that in a preposition, deal).  Sunderland came off with a big win, 3 points, and hopefully, a better chance of not getting relegated.
With LeBeef out of town, we still decided to do a family Easter dinner.  I had an irreverent idea/good recipe I thought would work with rabbit, so I went for it.  I quartered the rabbits the night before, and put them in a brine of salt water (1/4th cup salt, half cup water or so), bourbon, and freshly chopped rosemary.  After golf, I got the smoker going (but you could also do them on the grill).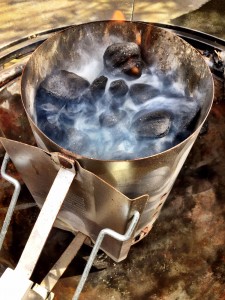 I used FJ's trusty blowpoke to regulate the temp.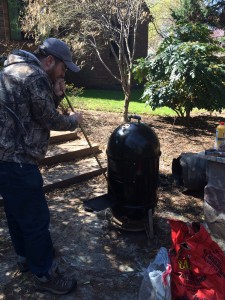 It smelled delicious.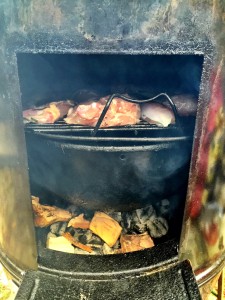 A while back, I found a different kind of rib recipe.  Its basically just balsamic vinegar, brown sugar, garlic, cayenne pepper, and rosemary.  It works really well with pork, but I had a hunch it would also work well with smoked rabbit.  I never follow a recipe exactly, but I did use the same ingredients.  I used a different brine/marinade overnight, and then since there is a lot of sugar in the sauce, I only mopped the rabbit about an hour or so before it was done, and then added some extra sauce when I took it off.  Otherwise, the sugar in the sauce might burn on you (especially if grilling it at a higher temp).
While we waited, I enjoyed the weather with a few beers.  If you aren't up on this Innis & Gunn (thanks CK and Ryan), you don't know what you're missing.
LeBeef facetimed us from Rabat.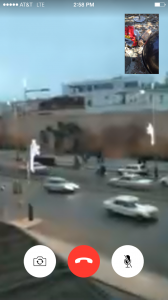 Otto played with the girls.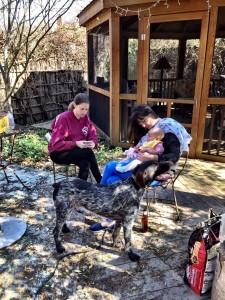 And after trying to stoke the smoker up to caramelize the final glaze, and putting the corn on the bottom rack, I managed to start a brief but intense husk fire, which didn't mess up the food, but was dramatic none the less.  Everyone was superlative about the meal. CK said it was in her top 5 of all time.  If you want to recreate it, I think I smoked the corn about 45 minutes at about 220-300 or so, and the potatoes can be on as long as it takes the meat to cook.  I'd actually have preferred to pan fried the taters, but I didn't have time and I didn't want to mess up with kitchen with LeBeef gone.  Season the potatoes with the same balsamic, brown sugar, garlic, cayenne, rosemary marinade as the rabbit.  Again, due to the sugar, I'd add the marinade towards the end of the cooking process.  Spray or mop olive oil on the corn before you smoke/grill it, then butter to serve.
After dinner we had blueberry pie and decorated eggs.
Then the next morning we had some hot cross buns for Easter that we got from the Amish shop over at the farmers' market.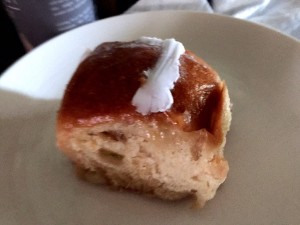 Monday was opening day, and FJ invited me to the ballgame.

On the way, in the convertible, we saw the first cherry blossoms starting to pop out, and the paddle boats are on the water.
I had a footlong and a beer.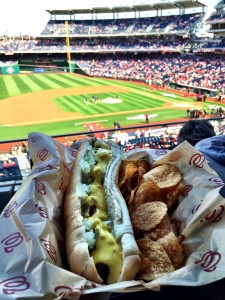 We didn't come away with a win, but with spring and baseball back, one can't complain.  Especially me.  Spring is finally here, I've been eating well and seeing family, my girls are doing great, and I've got two golf trips on the horizon.  Life is good.
This entry was posted in Cigars, Cocktail Recipes, FCC, Food, Meat, Sport by rsiv with
Warning: count(): Parameter must be an array or an object that implements Countable in /home/bonviv6/public_html/wp-includes/class-wp-comment-query.php on line 405