Rest of the weekend, Frozen Dairy Bar and Boardwalk Pizza, Lazy Sunday, and Famous Dave's (RIP Bubba's BBQ)
We continued the weekend by ordering some Frozen Dairy Bar and Boardwalk Pizza.  They deliver, so when we're too tired to go out, we often order from them.  This time, we didn't even get pizza.  My wife got a meatball sub, and I got a burger with sweet and hot peppers.  The food is good, but the goosebumps (like a blizzard) are why you go back.  Early the next morning, we headed to Burke to help a friend move.  As it turns out, we had 5 guys to fill the largest truck they'd rent my buddy.  It was quite a bit of work.
After about 4 hours, we had some pizza and beer.  After the move, we went back to my place for some shoes, and it was so nice, we got some ice cream at Lazy Sunday.
Then we went to my friend's St. Patricks Day party.  As an Irishman, he takes his St. P's very seriously.  St. P's punch, meat and potatoes, soda bread, and a flight of Irish whiskey.  I'm not generally a big fan of Irish whiskey, but the Redbreast 12 was amazing.  I may pick myself up a bottle.  The hostess made her famous Irish car bomb cupcakes.  I don't know her exact recipe, but I'm sure similar ones can be found online.  I'm not much of a dessert guy, but those cup cakes are bomb (intended).
The next day, we went to Fredericksburg to unload the moving truck.  This time we had a lot of help, and the work went pretty quickly.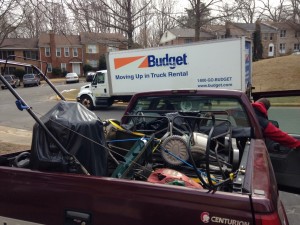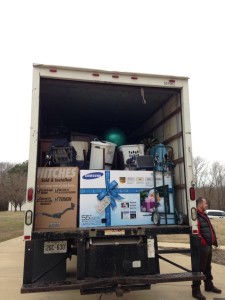 After the move, we went to Famous Dave's for some BBQ.  I would have rather gone to Bubba's BBQ, but as we found out about a week ago, our favorite BBQ place closed.  It wasn't the best BBQ I'd ever had, but I did love me some Bubba's BBQ, and Mo, the owner, was always a good time.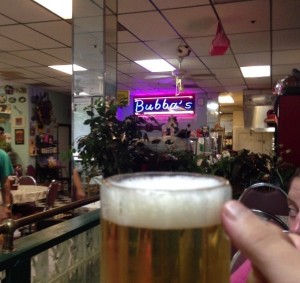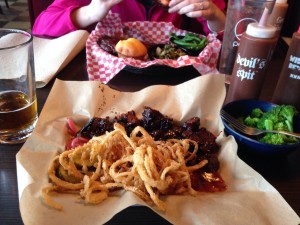 I can't imagine a busier weekend.  There is some more stuff to move, and I might end up helping with some painting, but for now, as CW says, I'm going to rest my body.
This entry was posted in Brown Sauce, FCC, Food, Meat by rsiv with