Pita Pouch Falls Church Review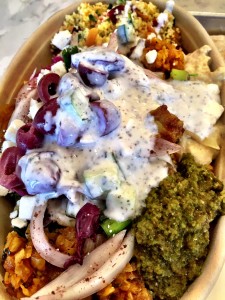 My mom lives in FCC and is on the chamber of commerce.  While watching my daughter, she went to the grand opening of Pita Pouch a couple weeks ago and told me about it.  I decided to check it out and got a couple pitas to take home one day after work.  They were good, but not mind-blowingly so.  The decor is cool and its not another pizza place or froyo joint, so  I thought I might mention them in a catch-up post or something.  Then I went back with my wife and got the bowl.  OMG the bowl.  The cool thing about pita pouch is all the toppings, and with the bowl, you can really load them up and try a lot/all of the options.
With the pouch, you can really only fit maybe 5 or so toppings.  My bowl was fully loaded and exploding with different flavors.  They even give you have a pita with the bowl, so you're not missing a thing by not getting the pouch.  I've had the chicken and the beef, but I haven't tried the falafel yet.  The chicken and beef are both good options; you can't go wrong.  For the toppings, I think I passed on about three, but got at least a little of everything else.  Once you load up your bowl, get a mint lemonade.  I honestly can't think of the last time I had such a flavorful meal.  Definitely check out the Pita Pouch, and definitely go for the bowl.
This entry was posted in FCC, Food by rsiv with