Weekend Catch up, Teddy, Tennyson, "fun" run, painting, El Clasico
I started a new book about TR.  I'm not very far in, but enjoying it thus far.  I thought about trying to explain why this book is so manly/badass, but which antidote to pick?  I suppose when Teddy was shot, diagnosed himself as fine for the time-being, and gave a speech, saying, "Ladies and gentlemen, I don't know whether you fully understand that I have just been shot; but it takes more than that to kill a Bull Moose."  Teddy was known to blow through a book a day, so I'll let y'all know what new books I'm on in two days…
I'm also concurrently reading some Tennyson.  If you're not familiar, he brought us such quotes as:
"Theirs not to reason why, theirs but to do and die."
"Tis better to have loved and lost than never to have loved at all."
"Who are wise in love, love most, say least."
"I am a part of all that I have met."
This weekend I also won friend of the year by helping my buddy CW move out for the 2nd weekend in a row, and then painting his old house with him.
We did get compensated with tacos and beer.  The former were from cafe rio, and not half bad.
I also did a 5k.  I say, "did", and not, "ran", because ran would be inaccurate.
The run benefited Bright Beginnings, a charity my wife works with though the Junior League of Washington.
As you can see above, the buds are on the cherry blossom trees.  It won't be long.  Also, check out the bathroom break mid-race that runkeeper recorded.  Pretty funny.  My and my mom's walking time was 9 minutes worse than last year.  Clearly, we were not too worried about our time.  My dad, however, tied for third in his age group.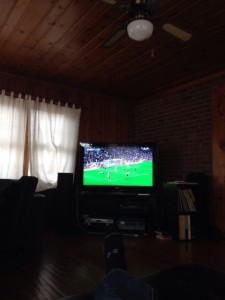 After all was said and done, I rested my body while watching El Clasico.
This entry was posted in Books, Food, History, Sport by rsiv with