Luzmary / Luz&Mary Falls Church Review
We live pretty close to Luzmila's, so when we heard the owners sold, and then opened up a new place on 29, we decided to stop by for lunch.  We started with chicken and beef Salteñas, which were spectacular.  Then we shared the mixed fajitas.  It came with shrimp, beef, and chicken.  I have to say that generally I find chicken pretty bland, but it was the standout here.  It was well-seasoned and incredibly juicy.  We can't wait to go back.
And as a bonus, I'll include a picture of choripán, recently voted best international sandwich by bon appetite.  Very easy to make and delicious.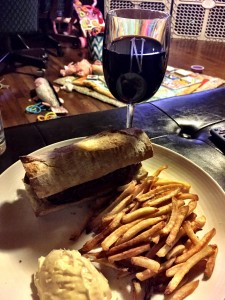 This entry was posted in FCC, Food by rsiv with
Warning: count(): Parameter must be an array or an object that implements Countable in /home/bonviv6/public_html/wp-includes/class-wp-comment-query.php on line 405