Spring Style Megapost, Mint Green Levi 501 jeans dyed with rit, Madras, LL Bean linen, Sperrys, Barbour, short shorts, Seersucker, Southern Charm, and much much more!
When I started this blog, I intended to do a lot of style posts (the pics above are from one here).  I haven't really got around to writing many, and each time I consider getting started, I notice that another blogger has beaten me to the punch.  Sure, I have my own take, but this isn't a style blog, and I'm no expert.  I have a bunch of stuff I want to post about, but instead of expecting everyone to click the style category, I'll try to keep it all together (at least for the time being) in one post.  Maybe I'll keep the style coming if this post is popular.
Start out by check out RCS' Spring Wish List.
I have a JCrew version of his recommended shirt.  Madras is a summer staple, but I thought I'd take it up a notch with the uniqueness of the pullover.  International flair without being too far from traditional.  Good pick.
I can't say that I agree with the fleece pullover though.  The utility of a fleece without a zip is suspect.  I realize style and utility aren't always congruous, but a good fleece can easily be found with a full zipper.
I also like RCS' New Balances.  Most tennis shoes look way too busy for my taste.  Not even all plain shoes go well with shorts.  I did go with an American theme to keep things interesting: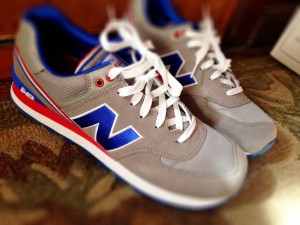 I think I might have to grab the golf glove RCS featured, and I already have a version of the wedge that is shown.  I'm not in love with the shorts featured, and I thought I'd link to some more casual jacket options, but Tommy Bahama doesn't currently offer the colors I got last season.
Lets talk about the white jeans.  First off, yes, I have some white 501s.  However, I rarely wear them because I found a better alternative.  A year or two ago I came across this blog post:
http://myhandsmadeit.com/2012/05/07/mint-green-denim-tutorial/
It explains how to use rit dye (amazon or craft stores) and a washing machine to dye white jeans a cool shade of mint green.  I bought another pair of white 501s off amazon, and threw some rit dye in the cart as well.  In a few days, I had mint green jeans.  The results are shown below.  In some pictures, the white jeans are shown for comparison, and further down is a white linen shirt I also dyed mint green.
I bought the white linen shirt from LL Bean for $40 (last year they ran out, but this year they're still stocked).  Rit dye is about $5 a bottle.  So for $45-50, you can have a linen shirt in any color you want.  $55-60 for jeans.  I'd recommend trying out a few old white shirts (cotton), etc, first, as dying is an art as much as a science.  I didn't re-read the whole DIY craft post, but basically, I like to pour about 4 oz or so of dye into a bucket of water (lined with a trash bag for easy clean up).  The instructions given seemed to result in a good product for that girl, but I found that using more aqua and less apple resulted in a softer less grassy mint.  Once you get your clothes about the right color (wet clothes are darker than when they're dry), throw it in the washing machine and set it to warm or hot water.  Thats basically it.  Remember that you can always go darker, but its hard to go backwards.  Less is more.  Aim for a light shade, like a tea dye look.
Now that I've admitted to owning white and mint jeans, and crafting, lets talk about inseams and short shorts.  I'm about 5'9.  On me, 7 inch inseams end above the knee without looking extreme.  Anything longer looks messy to me.  Against my better judgement, enjoy a creepy thigh selfie that shows what a 7′ inseam looks like: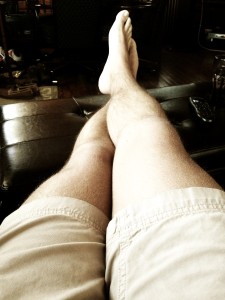 I also have some 5′ short pants from chubbies.  I'll let their website do the talking.   A 7′ inseam looks classic but not unusual.  5′ inseams will be noticed.  After a drunken morning at the pool at the Luxor, my friends and I have an inside joke/thing in which we have a, "small draw" competition.  Its on-going.  Its swim-draw specific (chubbies does make them), but perhaps I'll try to expand the competitive field.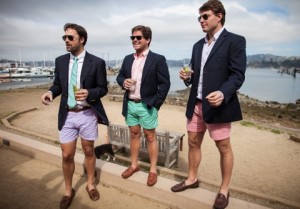 Here are some more short pant options from RCS.  I'm considering the southern proper offering.
You can't talk spring without talking sperrys.  First, allow a rant about all the boat shoes with socks I saw this winter.  If you think you need socks, leave the boat shoes at home.  If you're hard enough to go sockless in winter, go for it.  I'm a gold cup man myself, but I recently found some unused but vintage perforated sperrys on ebay.  My buddy RP, and another friend Rob both had pairs I envied, and I finally found some in my size.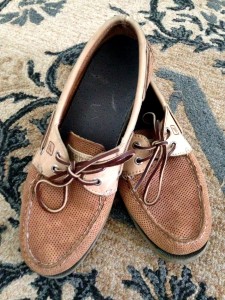 All the things you love, but in a breezier package.  It also helps with sperry odor.  There are plenty of resources out there, but if you are doing nothing about the odor issue, you're doing too little.  I use odor eater insoles (changed every couple of months), cedar shoe trees when not in use,  and in this case, perforation for extra breathability.
Lets talk Barbour.  Today was a good spring day for barbour but its really mostly an early spring item here in VA.  Further south, its probably more of a fall garment.  I did a lot of research before buying my first barbour jacket.  I'll give you a hint of which I found to be king of the barbours.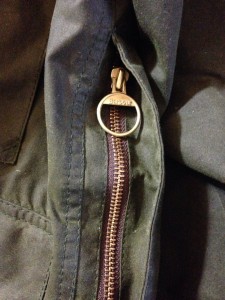 Any guesses?  Pictured above is the zipper to the game pocket on (but not exclusive to) the Barbour Beaufort.  Why is the Beaufort the best?  It looks good just out on errands, but its functional in the field.  You may think the shorter length of the Bedale is more stylish, but if so, you're probably a citified hipster because the Bedale does not have a game pocket.  If you're an equestrian, which is the only reason to own one, you get a pass (there are probably other good reasons).  So why do you need a game pocket?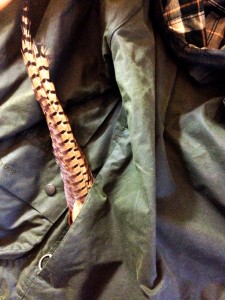 To hold your downed game.  A non-hunter owning a Barbour is like a soccer mom owning an off-road SUV (overkill is American, I'll concede that point).  Take the generous pockets, they're designed to hold your shells.  When I went to get some pictures of my Beaufort, I found an empty in there.
The beaufort isn't the only Barbour jacket with a game pocket.  I bought my dad a vintage border jacket, which was insulated, and had a game pocket.  So what else might you need to know before purchase?  Sylkoil vs "classic" (waxed cotton).  I only own the classic, and I like it, but you can check out both at an Orvis, or similar store.  Sylkoil is a newer finish, which you recondition the same way.  The upfront cost is slightly higher, and I hear the material is slightly nappier.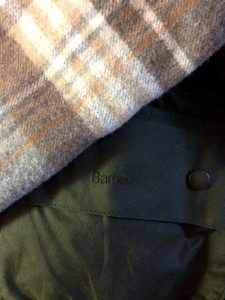 All joking aside, Barbour makes some good products.  My sister doesn't hunt, and no longer rides, but I did get her an awesome Barbour jacket from a saddlery for xmas.  A vintage Barbour off of ebay can be a pretty good deal, as all waxed cotton jackets require occasional upkeep.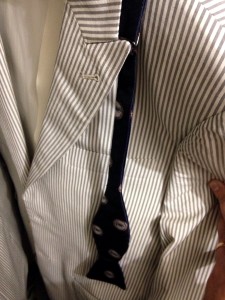 Now lets move on to a later spring/summer garment.  Seersucker.  I'm a fan.  However, lets say you're at a horse race or summer wedding.  All the try-hards are out in their blue seersucker suits.  So what to do?  Go green or grey.  Its subtle and classic.  My suit shown above is from Indochino (more about the company here).  Once you have the suit, you need shoes.  In my opinion, you only have two choices (please leave the flipflops for the beach, or at least with shorts only).  Bucks (another buck link) or saddle shoes: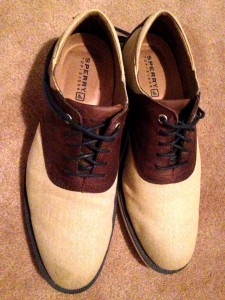 I thought about taking another pic to hide the stain on the toe, but then I remembered that its spilled bourbon, and decided to keep it real, and increase this blog's credibility.
So to summarize, check out some of the blogs I've linked to in this post (even more below)  Try a classic southern look.  Since I've already outted myself for crafting and owning white jeans, I'll go the next step and admit to my bad taste in reality TV.  I could tell you I watch for the southern architecture, plantations, and spanish moss, but we all know thats not the real reason.  This spring, go for the T-Rav look:
Not the shep:
If you don't watch, you don't want to take any advice from Thomas Ravenel aka Charlie Croaker (I can't be the first to make the comparison) save for fashion advice.  Shep looks like a freshman after receiving his first order of vineyard vines.  Everything is a size too large, and is sloppily thrown together.  And in case you didn't understand what a try-hard was when I used the term earlier, see that last pic.
Now, since I've already admitted to being no expert, and since I really only hit on the basics, here are some more links for those that are interested in knowing more than I: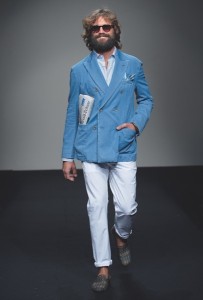 Check out the Grey Fox.  The pic above is from a spring/summer pinterest of his (I think from last year).  I very much dig the look.  There are many more to inspire you.  His blog is geared towards men of a certain age, but what young man today wouldn't benefit from a more classic, refined look.  He also has a blue and orange post which will get you ready for summer blockbuster season.  Check out another spring post here for even more inspiration.
Bowtiesandboatshoes has tons of seasonal posts, too many worthwhile to pick just one.
On when one can wear white, ad nauseum.  Crazy.  Rules are made to be broken.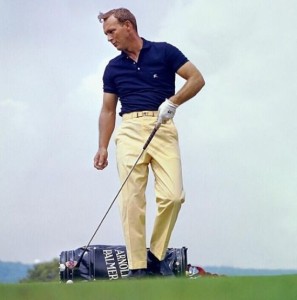 I can't/don't generally golf in December, January, or February, so for it, its golf season again.  How about some golf style.
Another favorite, but its down right now.  I'll try to remember to edit this and update it when its back up.
This entry was posted in Embarrassingly effeminate, Style by rsiv with