2014 Catch Up
Although this blog was started in late January, I'd like to capture the whole year.  I'll start with xmas, which was technically 2013.  I got an early xmas prezzie from my wife, the Weber Smokey Mountain.  My first time out, I just tried a single rack of ribs with a dry rub.  It was awesome, and I highly recommend the WSM.
Shortly thereafter, a fraternity brother hosted a KC BBQ rules rib off.  My team won, but I can't really take much of the credit.  We had a tried and true competition smoker on our team who made most of the decisions.
For xmas, we started with our (for the last two years) tradition of vodka, champagne, caviar, blinis, and creme fraiche.  Then we opened presents.  My wife got a Beretta Explor A400 in 20 gauge.  I got a champagne saber, inscribed with a quote from Napoleon, reiterated (but paraphrased) by Winston Churchill.   Then for dinner we had our traditional steak (a slightly older tradition), which was phenomenal.
For New Years, we went to Montreal.  It was about a 9 hour drive, but it flew by talking to close friends in the car.  We stayed on Square Phillips at an awesome hotel that was walking distance to just about everything.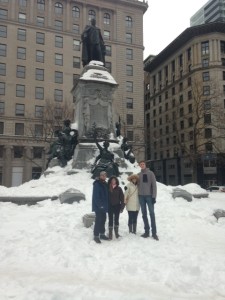 We went to Casa Del Habano in Montreal twice.  Once because we jumped the gun because we were so excited, and then again for my buddy's 29th bday.  I enjoyed a Hoyo Epicure #2, and a Monte #4.  We also had some great Cuban rum.  Havana Club Seleccion de Maestros was our favorite.
We also did some sightseeing.  The museum of fine arts was particularly good.  My two favorite works were Moonlight by Henri-Joseph Harpignies (1889) (Clair de lune by Debussy was played deliberately in the room), and Boys Club by Jules de Balincourt (2011).
We also enjoyed visiting the Notre-Dame Basilica of Montreal.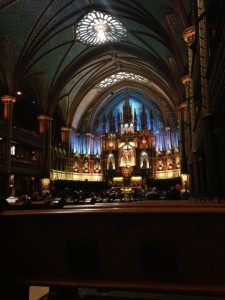 We ate at schwartz's.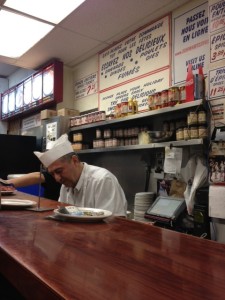 Visited the house of jazz: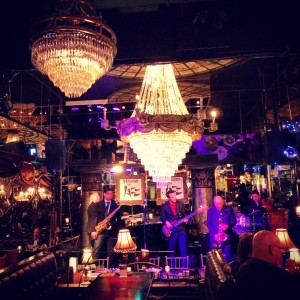 For my friend's birthday, we ate at Le Club Chasse et Peche on the recommendation of Tony Bourdain.  Then on New Years, we dined at Chez Queux, right on Place Jacques Cartier, where the festivities go down.
NYE in Montreal:
When it was time to drive back, it was a little chilly and a bit of a snow storm rolled in.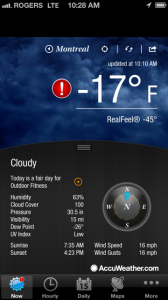 We also celebrated my wife's birthday this month.  First by going to Russia House during restaurant week (everything was great, I'd go back for the vodka sampler), followed by a Caps game.
Then we headed to West By God for a hunt, a movie in an old timey theater, and some relaxing with friends.  For her birthday dinner, we smoked a pork butt and had us some pulled pork.
This entry was posted in Brown Sauce, Cigars, Hunting, Meat, Travel, Uncategorized by rsiv with