Weekend Update: Mediterrafish Merrifield, Paladar Tysons, Mad Fox brunch, Chef Geoff's for restaurant week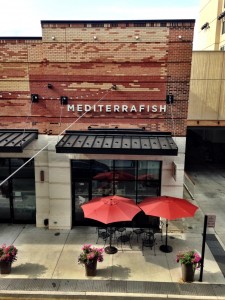 On Friday, I went to Mediterrafish in Merrifield.  I was nearby doing some physical therapy nearby, and I'd wanted to stop by for a long time after seeing their selections in the window.  I went with monkfish, and salmon for the pregnant.  I seasoned the monkfish with olive oil, herbs de provence, and rosemary.  I put some jerk seasoning and butter on the salmon, and put them on some cedar planks.
Saturday morning we went back to Paladar for brunch.  I got the tacos, which were awesome.
Later that day, we sold the wife's car.  Her VW Golf gave us 10 great years of service.  She was very sad to see it go.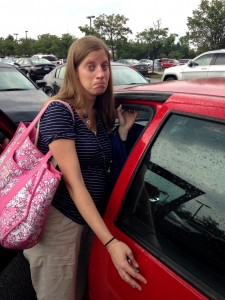 Then we took the back way out to my buddy CW's.  He has a week old newborn, so we went to visit.  We drove through the battlefield, and up the blue highways.
CW had some burgers from a fancy butcher that he grilled up.  They were delicious.  The farmers' market corn was also great.  We got into his Yuengling Premium reserve, which means its just about time for a trip to WV to restock.
Sunday morning it was amazing outside; we went to brunch at Mad Fox.  I got the pork belly benedict, and added fried green tomatoes.  I paired it with their English style brown ale (on cask).
Then we did some dogsitting.  My sister's boyfriend just rescued a german wirehaired pointer.  My hopes that he could one day hunt were buoyed by the fact that he did some fetching, treed a squirrel, bent his leg to point a little, and started to learn to come when called.  However, when treats are involved, even Lord Snackington will come when called.  If nothing else, Otto got some more calories out of the training, and I burned a few.
After driving back from my CW's place, I realized there was a screw in my tire.  I went to MB to get it fixed.  The car I was driving was my Mom's company car, so I sent her the picture of the SL below, and told her that her SLK was totalled, and I'd be bringing an SL home for her.  She said the white looked nice, but she'd prefer to stick with red.
Later that night, we kicked off DC restaurant week at Chef Geoff's in Tysons.  For value and convenience (its close to us), it can't be beat.  Especially on half priced wine night (Mondays).  I was skeptical that the key lime pie would pair with the mango, but it was surprisingly good.
Wednesday, I ran over to my parents house on a beautiful day.  Really enjoyed the city on the walk back.
If y'all aren't following me on Twitter yet, hit me up:  @BonVivantVA .  I just started the account, but I've already been retweeted/favorited by JackRoseDC, Quail4ever, National Bohemian, The Greenbrier, Nauti Foods, an author, and food writer, and more.
This entry was posted in Brown Sauce, Cigars, FCC, Food, The I-talian Woman by rsiv with