OGF, Pig Roast in the Northern Neck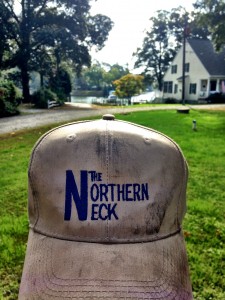 On Friday, HB and I headed down to Reedville for our annual pig roast.  Back in college, we had a pig roast for a frat brother/roomate's birthday.  Ten years later, we're still at it.  After a rainy but beautiful drive down 17 and 360, we arrived at the bay, had some salty fried chickens from Little River Market, and did a little setting up.
Most of the guests had about a three hour drive after work, so we prepped the hog, did some quick raging, and called it a night.
Saturday we were up early(ish) to get the hog on.
We weren't the only ones with our hands full…
HW fixed us up some delicious bloodies, and it was time for some breakfast burritos.
With the pig looking good and the coals low and grey, we threw some bourbon soaked smoking wood on and covered the pig with tin foil to saturate the hog with hickory.  We grabbed drinks, camp chairs, and did some catching up.
Once we hit about 160 degrees, we pulled the pig.  Getting the pig on the table is always a little precarious, but we handled just fine (this year).
With Special K at a high school reunion, Bobby Light took over the carving duties.
The last three years or so, I keep saying we've made the best pig yet.  I definitely felt that way this year.  The rub we use is perfect, and the bourbon/salt water injection we did the night before left a subtle delicious bourbon flavor to the meat.  The pork was great, and Patrick's corn puddin' wasn't messin' around either.
Effie's first taste of OGF.
I'm no veterinarian, but to the best of my knowledge, Lucy (the dog) is not pregnant.
If you haven't had Li's Irish Car Bomb Cupcakes, you haven't lived.
After the hog was butchered and everyone had their fill, we headed down to the dock for some stogies.
That evening, we somehow found the energy to keep partying.  Lil Steve was coming off a long shift at the hospital, so he shotgunned a red bull or two.
We finally kicked the keg around midnight.  We've kicked four or five kegs in the past, but as time goes on, more 'festers move away, get busy, get pregnant, etc.  The group can still throw down though.
I had the last drop from the last pitcher around 1:30, and called it.  I had a few nightmares about a monster under my bed that night…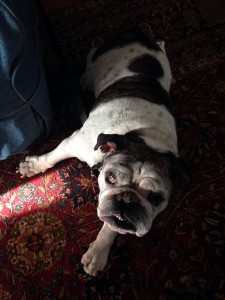 The next morning I was in desperate need of some coffee.
After some breakfast, we cleaned up the garage, and headed to The Crazy Crab.  This year, with all the babies, it was the smallest group at the crab yet, but we had a great time.  I won't really try to explain the road pasta.  You really had to be there.
Sweet tea and bloodies.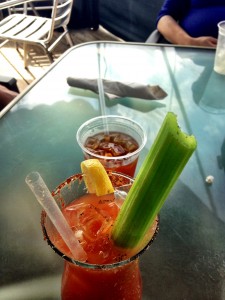 Sugar toads, hush puppies, and fried green tomatoes.
OGF is always one of the best times I have all year.  I'm a pretty fortunate and lucky guy.  I can't tell you have often I have people come up to me and tell me how lucky I am, or how jealous they are of my close knit group of friends.  '14 did not disappoint.  Even with kids, we had time to catch up, roast an amazing hog, have some drinks, cigars, and a really great time.  Can't wait for OGF '15 Carova (or wherever it may be).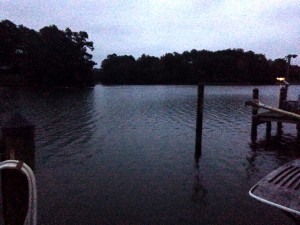 This entry was posted in Brown Sauce, Cigars, Food, Meat by rsiv with