Chasin' Tails, Bonchon, Nam Viet's Bo Dun (best Vietnamese dish ever!), man work, Paladar
With the birth of my firstborn imminent, the wife and I have been busy trying to not waste a second of freedom.  We enjoyed some Chasin' Tails a while back.  Crawfish, oh dang, n'awlins hot, and beignets and chicory coffee for dessert.
On Veteran's Day, we had lunch at Bonchon.  Then later I poured a dram and lit up a pipe by the fire.
Later in the week we went out with Marteen to Nam Viet for the best Vietnamese dish I've ever had: Bo Dun on skewer.  Its beef rolled around vegetables, that you put into a rice paper wrapper and dip in a sweet honey sauce.  Amazing.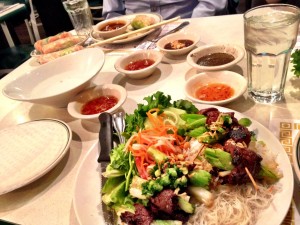 My dad had a half cord delivered, but it was a little larger and greener than advertised.  A log took a bad hop into my shin, but fortunately I had my Red Wings on, so I barely had a knot to ice when I got home.
Then HB and I enjoyed another brunch at Paladar.  I was adventurous enough to try a pumpkin spice mojito that despite being too sweet, worked very well.
This entry was posted in Brown Sauce, Cigars, FCC, Food, Uncategorized by rsiv with
Warning: count(): Parameter must be an array or an object that implements Countable in /home/bonviv6/public_html/wp-includes/class-wp-comment-query.php on line 405