Del Campo DC Review, Baby's first night out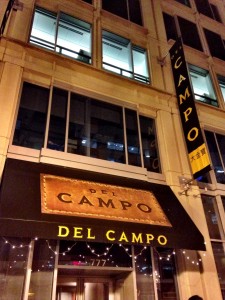 EF's shots finally kicked in, so we are liberated from the house.  We decided to celebrate our first night of freedom at Del Campo.  Del Campo takes its inspiration from a Latin American Estancia, and its menus did remind me of my time in Argentina, Chile, and Uruguay.  Even better, at Del Campo, they seem to agree that everything tastes better off a wood grill.  Even the sea salt and olive oil have a touch of smoke.
I started with an Encanto del Campo which was peppery, just sweet enough, with lime, mint, and delicious all-spice.  The rest of the group had the Limonada Sucia, the Dirt and Smoke, and a Pisco Sour.  The first two were most interesting, but I think the classic pisco sour was my second favorite.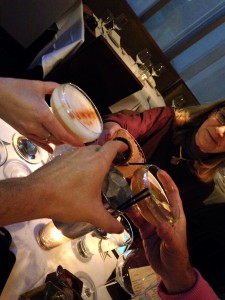 We cheers'd, and EF cheers'd with leche de madre.
The smoked oysters with chorizo and butter were divine, and made for an excellent appetizer.
FJ and Swaggy-we started with the smoked uni, angel hair, and caviar.  It would not have been my first choice, but it was decadent.
Del Campo had a special on a bottle of Rioja, which was excellent.  Then came the asado.  We had the short ribs, rolled wagyu skirt steak, del campo chorizo, and morcilla blood sausage.  I really liked the short ribs, but the wagyu was pretty dang good.  The board came with bone marrow, which is awesome.  I doubt that many would order marrow, but this way, I bet a bunch try it for the first time and fall in love.  Classy move.
The grilled swiss chard may have been a little too salty for some but I loved it.  The chimichurri was decent but nothing special, while I found the salsa criolla delightful.  However, the meat certainly stood on its own.
Surprisingly, we had a little room left, and as it was a celebration, we ordered dessert.  If you read the blog, you know sweets are not my thing, but the crispy apple empanadas were delicious, and the tres leches twinkies really surprised me.  The twinkies were good enough to be more than a gimmick, and the mango sorbet really set it off.
I enjoyed a nice madeira as a digestif, and we even got some complimentary last sweet bites.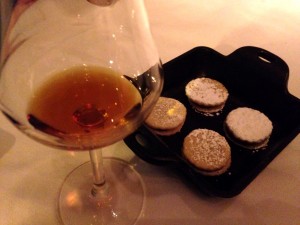 Del Campo was worth the wait, and more than lived up to the hype.  I had high expectations and they were exceeded.  I hope to be back soon.  Its definitely not the kind of place that I'd call baby friendly (no changing table in the restroom), but the servers were very accommodating, and we had no issues.  We did go early which was key as the restaurant filled up quickly.  We also managed to be as mannerly as possible since EF had her mom and mamaw there to keep her quiet.  She hardly made a peep.  If you're looking for a great night out in Chinatown, give Del Campo a try.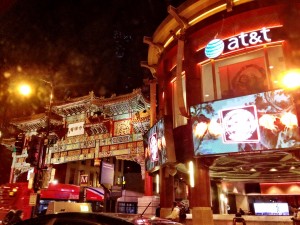 This entry was posted in Food, Meat by rsiv with