Mardi Gras, Chasin Tails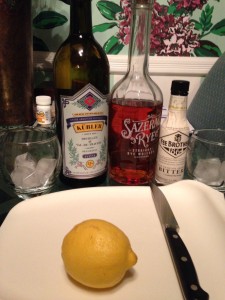 On Fat Tuesday we had some friends over for sazeracs, and then went to chasin tails for the crawfish.
We started out with some gator and hurricanes.  I didn't really want a sweet weak drink, but I tasted a friend's, and it was pretty good.  As it turns out, chasin tails serves a very strong hurricane.  Everything else is great at chasin tails, so I'm not sure why I doubted the hurricane other than most restaurants don't typically serve a drink that strong.
I've been to chasin tails a few times before.  I've always gotten the same thing.  Bayou in a bag with crawfish (flown in live, not frozen), oh dang sauce (formerly called whole shebang), n'awlins hot, with extra andouille.  I had a few of the wife's shrimp which were also good, but no crawfish.  I was there last night, am currently a little hungover, and the pictures are still getting me hungry.
We had a couple of rounds and things got a little blurry both figuratively and apparently literally.  My dad has a great bourbon st. story about getting hammered off hurricanes, wandering into a line for the preservation hall jazz band, and conversing with a strip club doorman.  Ask him about it sometime.
Chasin Tails is a great time, and on Marti Gras, it was awesome.  Beware of the hurricanes.  Especially when preceded by sazeracs and followed by abita.
***Update:  Looks like a friend of the blog also had a good time at chasin tails:
http://www.littlecitylegend.com/2014/03/mardi-gras-recap.html#more 
This entry was posted in Brown Sauce, FCC, Food by rsiv with