Bull Run Shooting Center, sporting clays, Browning Maxus, and Stevens 311 16 gauge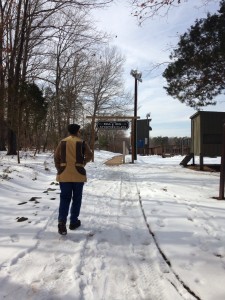 It finally warmed up enough to do something outside.  While there is definitely a lot of snow in these pictures, it was actually in the 50s and sunny.  Not a bad day for some clays at Bull Run Shooting Center.  We threw the Browning Maxus and my old Stevens 311 in the truck and headed out.
My dad got to break in his new filson shooting vest that I got him for xmas.  I finally found a cheap box of ammo that works in my Stevens 311.  Its hard enough to find 16 gauge, but 16 gauge with a soft primer for an old gun is even worse.  Fortunately, my local dicks has remington game loads that fed flawlessly in the 311.  I went through 4 boxes without a single issue.  Rio, Fiocchi, and Federal have primers that are too hard.  I did find some winchester that works, but not at a good price point.  This Remington gets the job done on the cheap, and I couldn't be happier.
We enjoyed the mild weather and broke a lot of clays.  Great day.
Bull Run Shooting Center has a learn to shoot class that only costs $35.  I've done this class when a friend, and its definitely geared toward the first time shooter.  They have a new class that teaches you the basics, and how to shoot a game.  I assume they teach you 5 stand, trap, skeet, etc.  They have everything you need to shoot, and its included in the cost of the classes.  Don't forget to tip the instructor.  If you know how to shoot, then you don't need anymore info from me.  But if you're looking for a local shooting instructor, the desk at the shooting center can put you in contact with one.  When I wanted to get good enough to hunt, I took lessons with an instructor by the name of Dennis.  I'd definitely recommend you ask for him at the front desk.  Here is some more info from another blog; looks like BRSC is ADA compliant/accessible.  Pretty cool.
This entry was posted in FCC, Hunting, Sport, Uncategorized by rsiv with