ΣΦΕ Golf Tourney
In anticipation of my upcoming golf tourney, I had a fortifying breakfast, and then wore myself out trying to fix some stuff at the range.  Then I fueled back up while watching The Masters.
The fat girl helped me send a few emails.
And then HB and I went to Mad Fox with Lil, and I had a bday cigar with Le Petite.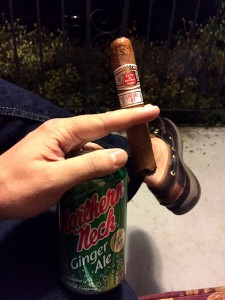 I pulled my thumb from EF's mouth, got the truck tuned up, and headed to Naw-fuk.
After a little drive, C-Note and I pulled up to Obici house on the Nansemond in Peanut City.  Its a beautiful place, it was a beautiful day, and Sleepy Hole is a really nice course.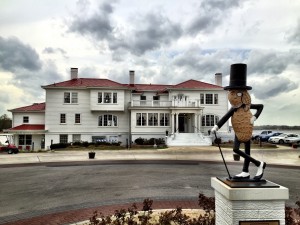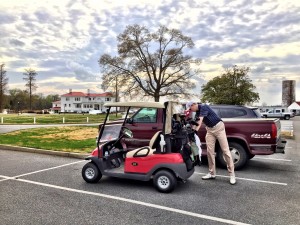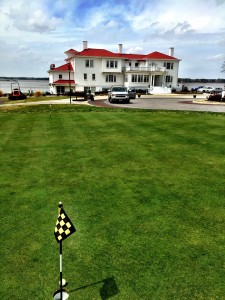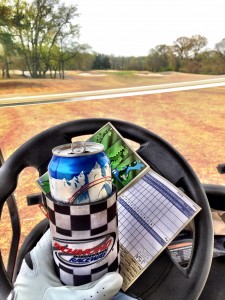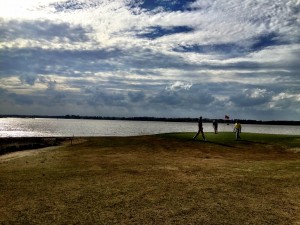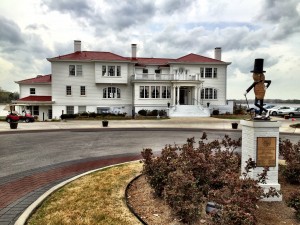 After a pretty decent round (for me) at some of my favorite Virginia courses, we followed Uncle Thom to the Dirty Buffalo for some wings.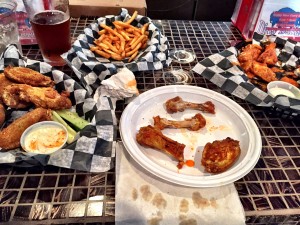 Then we hung out while Thom and Bobby Light played some kickball.
That night, we kicked back with some of Bobby Light's delicious homebrew.
My tum was (still) acting up on me, but I managed to get enough sleep to function the next day.  I watched a toddler for a few minutes (without incident) and then we headed to the tourny.
The course was in pretty bad shape, but we had an awesome time despite it.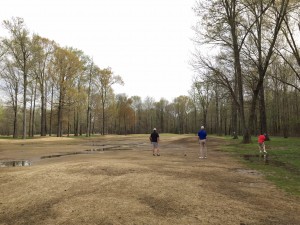 Bolt hogged the potty and frightened the passersby on a walking trail with his moans, Bobby Light took matters into his own hands, and I took a selfie.
C-Note made an amazing 90 and some odd foot putt out of a bunker for birdy.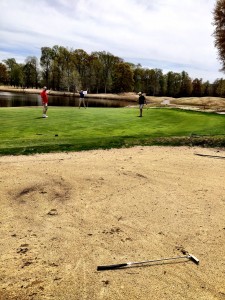 Bolt celebrated with a little rum.  Then he started demanding that we play his walk-up song before he hit.
One of us mentioned that Bolt was getting a little drunk.  He just looked at us, whipped out his club, and let his driver do the talking.  We were impressed, but not as impressed as the two ladies on the walking trail that also saw Bolt's driver.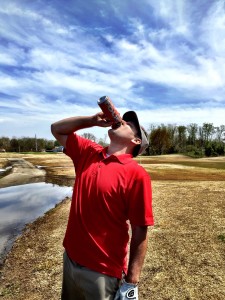 After the tourny we went to some University's campus, perhaps Duke or UVA, its hard to tell, for our frat's BBQ.
We did a little catching up, and then headed to real plaza for some plaza time.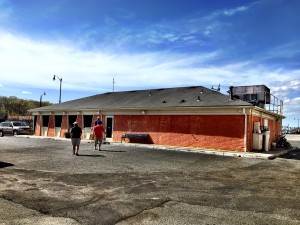 Bobby Light was excited to be out with friends enjoying a big beer and white sauce, but real talk, he was more excited to get home and see his little princess (#VGTIC #TBIIL).
Bolt opted for more queso fundito.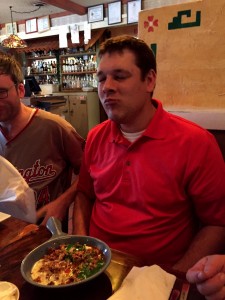 He seems to be building up a tolerance, so he added a bottle of verde salsa picante.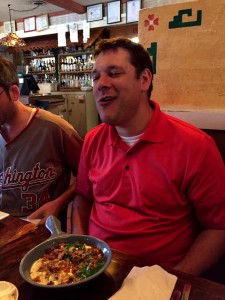 After dropping C-Note off at the airport, BL and I went under a container ship in the HRBT and headed home.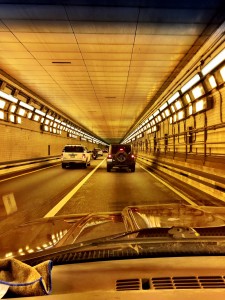 The next morning, I needed a fortifying meal for the trip home.  BL suggested a sweet potato biscuit sammie from Handsome Biscuit.  Schliz and I went for the Hella Fitzgerald, while Bobby Light got the Stevie.  OMG nom.  Very jelly that I can't get a sweet potato biscuit sammie on the reg.
After a little more catching up, it was time to leave my gracious hosts, the Light family (of the Northern Neck Lights, formerly the Richmond Light's), and head back to NYS.  It was a great time, and hopefully I'll be back to the Tidewater for some more golf and catching up with old friends soon.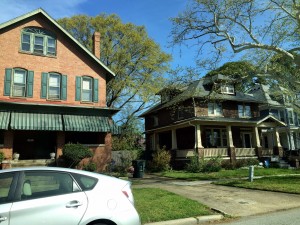 This entry was posted in Cigars, Food, Sport by rsiv with