RIR, Spring 2014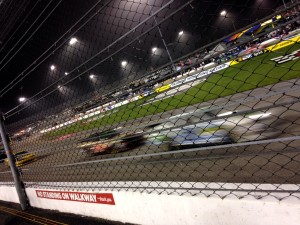 Friday morning I headed down to Richmond International Raceway.  I met a buddy at Chick-fil-a for some chicken minis, then on to Richmond.
We got to the tailgate at about 12:30.  That gave us about 7 hours or so of tailgate time.  We hoisted the flags and got to partying.
The above three posted for an impromptu best dressed competition.  CW (center) was mistaken for a professional fishermen at the Chick-fil-a.  It made his day.
I had some lunch, the sun was shining, but then the skys quickly turned.  We waiting out the downpour under the canopies.
My friend Bolt always rocks the socks and, "shower shoes" look.  My buddy RP always gives him the business about it.  Too bad he wasn't around to see them in the weather.
The rain stopped for the most part, and he headed in.  We had to wait out some more rain under an overhang with maybe 200 other dedicated/hammered fans.  It let up again.  They dried the track for what felt like hours, but they finally let them run.
Some of us got a little sleepy, and called it a night early.  The first time Almang passed out in the stands, we have him a ton of crap over it.  Now, its so commonplace that nobody really even noticed our buddies dozing.
Despite the weather, a great time was had by all.  I only get to see some of these guys a few times a year, so I love being able to catch up.  This was the first year I listened in on the radio a little.  I thought that really adds to the experience.  My college friends move, get married, have kids, etc., but I hope we keep doing the Richmond races for years and years to come.  If you haven't seen a NASCAR race live, you don't know what you're missing.
This entry was posted in Brown Sauce, Sport by rsiv with