Under the Lights in Richmond, Richmond International Raceway, NASCAR playlist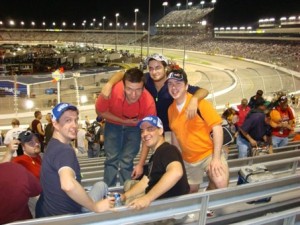 Tomorrow I'm headed to RIR for the busch series.  A bunch of the guys still get together for one or both of the Richmond races each year.  The shorter, cheaper, busch race is always an easier sell, and if you haven't been, its usually crazier too.  Here is a playlist I'll be listening to on the way down and at the tailgate:
My wife got a new app called timehop.  It sends you pictures from years pasts on the same day the pictures were taken.  She just sent me these two from the race two years ago.  If you have seen my followup post (the next one), Bobby Light, CW, and Bolt won best dressed this year.  BL and CW would have won two years ago as well.  I'm going to have to download timehop.  Pretty cool.
This entry was posted in Music, Sport by rsiv with