DIY Freddy's BBQ from House of Cards, Smoking using the WSM is EASY, Sunderland AFC, Virginia Gentleman vs Maker's Mark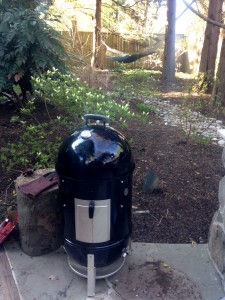 All I had on the agenda this Sunday was smoking some ribs.  I woke up this morning to Sunderland v Cardiff on the DVR.  This is the last game I'm able to watch this season, as I'll be in Cuba with no internet access for the remaining three games.  Sunderland is still at risk of relegation, but currently outside the relegation zone.  If I was going to be in town, I would not miss a single second.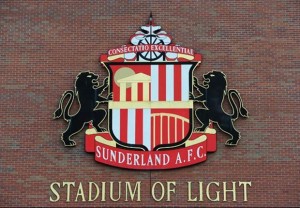 I bought my dad a smoker for xmas, and he said he wanted to have some ribs on Sunday.  We've smoked before, but he wanted to see the process again so he could do it on his own.  He had Nationals tickets on Sunday and couldn't be there to see my process first hand, so I figured I'd write up the steps so he can read it in case he wants to smoke solo.  I hope its of help to you as well.  I'm no expert, but that means anyone can do it.  Here are two more resources to get you going (click here and here).
A lot of people have been finding my site by searching for House of Cards related material.  I figured I'd give this post a HOC slant to see if I can't generate some more traffic.  Frank Underwood is from SC, but the ribs hes seen eating look to be covered in a sweeter tomato based sauce not typical of his region.  FU would more likely prefer South Carolina mustard based sauce or maybe even North Carolina vinegar based sauce (see link below for more detail).  I'll give y'all my NC style sauce recipe.  I don't like mustard sauce, but my wife loves it.  I did find a good SC mustard sauce at the store, which my wife found to be delicious.  Mostly, I'll explain how to make your own Freddy's ribs (spoiler alert), now that DIY is your only way to get them.  I found a great resource on the details about Freddy's ribs here.
This post contains instructions for a basic smoke with no preparation.  I went shopping right before smoking.  Nothing was brined, marinated, or required any extra time or effort.  The prep time for the smoker and ribs was about 15 minutes total.  My cook time was 4.5 hours, but as you'll see below, its a leisurely 4.5.  My goal with this post is to show everyone the easiest way to learn to smoke ribs.  Once you get the basics down, the sky is the limit.
To start, you need to buy a Weber Smokey Mountain smoker (not the smallest one).  Its the best of the best, and if you don't believe me, do a little research and check the amazon reviews.  I have a fraternity brother that does competition smoking, and the WSM is what he and his competitors use.
First we went to Balduccis to get the baby backs.  I love a place with a real butcher.
Using a smoker is much easier than you'd think.  First you get some charcoal started in a chimney.  I'm a proponent of the minion method, which basically just means you put the hot coals in the center of some cold charcoal, and let it burn from the inside out to keep the temperature constant throughout the smoke.  When you add wood, I used apple and hickory, you don't need to soak it.  Just add 6-8 pieces for a 4-6 hour smoke.  4 hours is about all you need for ribs.  I don't even use a meat thermometer when I do ribs.  Thats how easy it is, and how hard to mess up.  I like to use some water in the water pan, but experts are pretty split on the issue.  I get a good bark even with water, and it keeps things moist, so I don't see any drawbacks (google for more info).  Then you just put the middle and lid of the smoker back on, and you're in business.  The temp will creep up, and if you hold steady anywhere between 220 and 250 degrees, you're golden.  You adjust temp using the air vents.  I start about about a quarter open, and slowly open them up until I'm in the smoke zone.  You want to start by adjusting the top vent, and then if you have to, adjust the lower vents.  Small adjustments are key.
Once the grill is set, you need to get the meat on.  Plain mustard provides a great adhesive surface for a dry rub.  The mustard really doesn't change the flavor profile, so don't worry about that.  I do have a favorite rub, but I just found this one at the grocery store today.  Stubbs is pretty easy to find, and it was pretty good.  Once I got the dry rub on the ribs, I put them on a rack (optional), and started smoking them.
Next I started on a carolina style bbq sauce.  I followed the previous link fairly loosely.  I used about a cup and a half of apple cider vinegar, and another cup and a half of distilled white vinegar.  Then I poured a little bbq sauce in.  I also shook in some of the dry rub.  Thats really all there was to it, and it turned out great.  Once the flavors meld a little, it will be even better.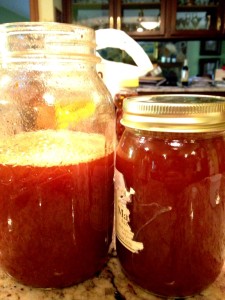 If anyone reading this thinks smoking ribs looks difficult, I've included the following to show you just had hard it really is…  While smoking, I decided to compare Maker's Mark to Virginia Gentleman.  I poured a glass of each.  I really had to concentrate to pick a favorite.  They're both very drinkable.  The Maker's is more complex, and has a slightly better nose.  I really expected more of a difference between the two.  I've never been a huge Maker's fan.  For mixing, I'm going with the gentleman.  For drinking straight, see my other brown sauce posts for my favorites.  I also had a Fuente Hemingway short story maduro.  If you're a cigar guy, you may know what I mean when I say sometimes a cigar is just on.  Perfect age, humidity, etc.  Everything was right with this one, and it was a wonderful smoke.  Its one of my favorites.
Putting in a hard days work…
I enjoyed the spring day.  But I did monitor the temp a few times.  It was pretty easy with my remote display.  I really can't stress enough how easy it is to learn to use a smoker.  Especially with ribs, you can get a good result your first time, and then really fine tune your abilities without much investment.  Don't be afraid to take it up as a new hobby.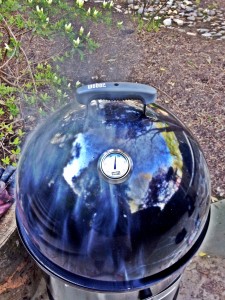 My parents got home from the Nationals game, and my dad and I watched the Wizards in the playoffs on the DVR.  Once the ribs had been on about 4 hours, I pulled them off, put them in tin foil, and dressed them.  I put a store bought bbq sauce on one, butter, and dark brown sugar.  On the other rack, I mopped on the homemade vinegar based sauce, added a little butter, and even a sprinkle of brown sugar.  I topped it with another quick shake of the dry rub.  Then I put them back on the smoker, and let it run a little hotter.  After 30 minutes the sauces had caramelized, and the ribs looked amazing.
Carolina Style: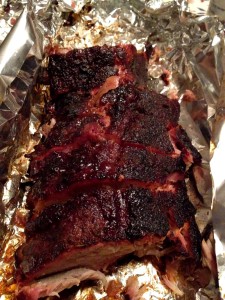 Store bought bbq: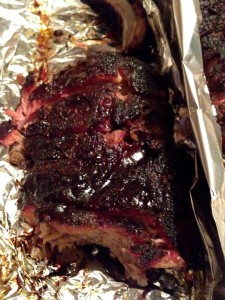 Then we looked over the details about our upcoming trip to Cuba.
It was a great, relaxing day.  I hope my instructions inspire you to give smoking a try.  It really is easy.  A lot of sites will overwhelm you with detail.  Take it from me, you do not need to be detail oriented to make great ribs.  I really think most people can turn out better ribs than most restaurants just by following my directions.  Just check out some youtube videos, and my links, and you'll be able to end up with some really amazing ribs.
This entry was posted in Brown Sauce, Cigars, FCC, Food, Meat, Sport by rsiv with