Staying in fighting shape for crew, torturing yourself with a foam roller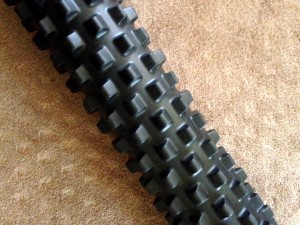 My mom was complaining about her personal trainer at McLean Racquet and Health kicking her butt.  I bought her a foam roller off amazon to help her with the soreness.  I'm not sure she ever used it.  Fast forward a few months, perhaps a year, and I'm feeling pretty tight from my first row of the season, even four days and a massage later.  I've had some muscle issues after a fall, and then again after rowing last year and some high diving off a boat.  I remembered giving my mom the foam roller, so I went to her work out room in my parents' house and stole it back.  When I bought it, I did a lot of amazon research and went with a very knobby and firm roller.  Smooth ones are common, but the one I bought was the third most popular on amazon, and one of the best rated.  I haven't tried a smooth roller, but the knobby one is very effective.  I not going to lie to y'all though, pain = gain.  If you get the extra firm and knobby one, you're in for both a lot of pain, and a lot of gain.  Lets see if I can scare you with some black and white pictures:
If you have a low pain tolerance, you may not use this thing more than once.  My back and shoulder pain is pretty significant though, so I've been using it pretty regularly.  It really does loosen you up.
The first two videos show the same moves, so only watch one of them.
For the guys:
For the ladies:
To really work out my issues, which are upper back and shoulders (also, for HB):
Even more good info here, and here.
This entry was posted in Sport by rsiv with