Spanish Phrases for Cigar Smokers – Frases en español para los fumadores de puros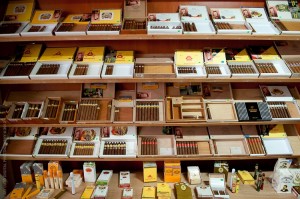 I'm headed to Cuba in a few days, and I'm trying to brush up on my Spanish.  Usually I get an international data plan, and I'm able to use google translate, xe currency, google maps, etc., on my phone (which I really can't recommend highly enough if you want to get off hotel property and really see a country).  Americans can't really get an international plan or local sim card in Cuba, so I'll be traveling sans interwebs.  I googled, "Spanish phrases for cigar smokers" but couldn't find a good resource.  So despite the fact that I don't speak Spanish and am therefore unqualified, I'll do my best to provide a comprehensive phrase sheet for tourists seeking cigars.  Lets start with the most useful phrase:
Do you speak english?
¿Hablas Inglés?
If that doesn't work, keep reading.  Lets go in chronological order, so we'll start with finding a cigar retailer.  Let me point out that I use puros and cigarros.  In my experience, one term may work when the other does not, depending on the country, person, etc.  If you try both, you'll likely succeed.
Where can I buy cigars?
¿Dónde puedo comprar puros?
Excuse me, where is a cigar shop?
Perdone, ¿dónde está una tienda de cigarros?
Where is a cigar bar?
¿Dónde hay un bar de cigarros?
Do you know its name? (you can type it into google maps, or better ask the next person)
¿Sabes su nombre?
This way? (one would point while saying this)
Esta manera?
How many blocks?
Cuántas cuadras?
Can you show me on this map?
¿Me puede mostrar en este mapa?
Can you show me on my phone?
¿Puedes mostrarme en mi teléfono?
Now that we've found the shop, lets pick out some sticks.  You'll notice that I did not include any phrases about authenticity.  If you have to ask, they're fake.  If you ask, they'll say they're real.  Most cigars sold in touristy areas probably are fake.  I'd get on google and do a little research before your trip if you don't already know how to spot fakes, and how to find authorized retailers.  This advice mostly pertains to Cuban cigars, but I've heard that fakes of NCs are becoming more prevalent.  State run stores, high end hotels, Duty Free, and retailers affiliated with Habanos SA are your best bet.
Hello, I'm looking for some cigars.
Hola, estoy buscando para algunos puros.
May I enter the humidor?
¿Puedo entrar en el humidor?
I'm just looking, thank you.
Sólo estoy mirando, gracias.
I prefer mild cigars
Yo prefiero puros suaves
I prefer medium strength cigars
Yo prefiero puros de fuerza media
I prefer strong cigars
Prefiero puros fuertes
What do you recommend?
¿Qué recomienda usted?
Is there a larger size?
¿Existe un tamaño más grande?   (más grande?)
Is there a smaller size?
¿Existe un tamaño más pequeño?  (más pequeño?)
Can I see more sizes?
¿Puedo ver más de las tallas?  (más tamaños?)
Do you have the brand, Montecristo?
¿Tiene la marca, Montecristo?
Can I buy a box?
¿Puedo comprar una caja?
Can I buy a single cigar?
¿Puedo comprar un cigarro?
Do you have packs of three?  Five?
¿Tiene paquetes de tres? ¿Cinco?
Do you have vintage cigars with more age?
¿Tiene puros de la vendimia con más edad?
What year is this from?
¿De qué año es esto?
May I see the box code?
¿Puedo ver el código de la caja?
Do you have limited edition cigars?
¿Se ha limitado puros edición?
After selecting our cigars, we'll need to check out.
How much for this?
¿Cuánto cuesta esto?
Do you take credit card?
¿Toma la tarjeta de crédito?
Do you sell cigar cutters or punches?
¿Venden cortapuros o punzones?
Do you have matches?
¿Tienes cerillas?
Do you sell lighters?
¿Venden encendedores?
Can I have the receipt?
¿Puedo tener la cuenta?
Thank you very much
Muchas gracias
Smoke em if you've got em.
May I smoke?
¿Se puede fumar?
May I smoke here?
¿Se puede fumar aquí?
Is cigar smoking permitted?
¿Se permite fumar cigarros?
Do you have a light?
¿Tienes fuego?
Do you serve drinks?
¿Sirven las bebidas?
May I have an ashtray?
¿Puedo tener un cenicero?
Perhaps we'd like to return.
What are your hours?
¿Cuáles son sus horas?
Are you open tomorrow?
¿Está abierto mañana?
Are you open Sunday?
¿Está abierto el domingo?
What is your phone number?
¿Cuál es su número de teléfono?
I hope this helps you out.  Again, I'm not a Spanish speaker, just a traveler who likes cigars.  Most stores that deal with tourists will have someone who can speak some English, and even if not, you usually only need broken Spanglish to get your point across.  I'm sure my translations contain some mistakes, but just use it as a guide, and good luck.  I hope it helps y'all out.
Thank you for bearing with me
Gracias por su paciencia conmigo
This entry was posted in Cigars, Travel, Uncategorized by rsiv with