Cuba, A&K P2P, Post #3
Day three started with another breakfast buffet, and this time, having figured out how amazing Cuban coffee is, I had some cafe con, and sin, leche.  Why pick a favorite?  We said goodbye to Cayo Santa Clara, and headed off for the day.  The first stop, was the Remedios Baseball Stadium.
We brought some gifts, and got to play a little ball.  We did have a good conversation, but I think playing was everyone's highlight.  I scored twice, got tagged out, and flew out.  I have some video I may figure out how to upload later.  The Cubans were great hosts, and made the game interesting.  For instance, my pregnant wife grounded one to the shortstop, who paused before throwing to first, to make it close.  She was thrown out, but just barely.  Everyone had a blast, and it was still pretty early in the morning.  Next we headed to a senior citizen community center.
Below, one of the seniors teaches us quimbumbia, a baseball-like game, and then my dad gives it a shot.
I have to admit, the senior center didn't look like the most fun activity on the itinerary, but between the music, dancing, quimbumbia, dominoes, and handmade crafts, it really was one of my favorite stops.  The seniors also had an interesting perspective on Cuba.  We got to hear what they, and they're parents thought about the revolution.  We also asked about how their children, grandchildren, and great grandchildren were doing.  They all seemed pretty pro-revolution, and said that had always been the case.  It was interesting that all of their kids and grandkids had good jobs.  Doctors, nurses, professors, and musicians, many of whom were living abroad.  This was one of the only places I really didn't hear any negative opinions about Cuba at all.  One wonders why.  Perhaps consequences were greater for criticism in their time.
At Santa Clara's Casa de la Cultura, Melodias Antillanas played traditional music on 100 year old instruments, and seniors taught us the Danzon.  The building was beautiful, and the musicians were excellent.  The seniors were very spry, and everyone had a great time.  At the end, there was a dance competition, and my parents won.  We brought some clarinet reeds as a gift for the group, and the clarinetist was so appreciative, he took his reed off of his instrument to show us that we had brought his favorite brand.
Then we headed to lunch.  It was probably our most touristy lunch, but good none the less.  HB (Pelo Pelota) was able to order pear juice.  I had a cerveza y mojito.
Then we stopped at the Che Guevara Memorial, before heading to Havana, and our hotel, the Melia Habana.  On the long drive, our American guide, was teaching our Cuban guide how to use her new touchscreen laptop.  She was particularly interested on how to listen to music.  She had a black and white flip cellphone, which she made several calls from.  She said she texted a lot, but I only saw her make calls.  I was surprised she had access to so much technology.
Above, you can see the Malecón, Hotel Nacional, Monte de las Banderas (Forest of Flags), and the Russian embassy.
We checked in, got a welcome cocktail (I don't think I'm mentioned it yet, but almost everyone we went, we got a welcome cocktail), and headed to La Casa Del Habanos, the state run cigar bar, that is found all over Havana, in our hotel in this case, and also overseas.  This was the only time I ran into any rude Cubans.  A security guard, or police officer, or some person of authority was not happy that I took a picture of the outside of LCDH.  He came over, and pointed at a 3 or 4 inch square sign of a camera with a slash though it that I had missed (did you notice it in my pic?).  I looked at him incredulously, and asked, "Sorry?"  That seemed satisfied and walked away.  On my mom's trip 3 years ago, she was made to delete a picture she had took at a hospital.  That said, that was the one and only encounter I had in Cuba that was not pleasant.  LCDH is also where David taught us to play dominoes in Cancun.  Also pictured above is one of the Canadian friends I made.  He is a BOTL, so perhaps some of you may know him.  He said his name was Herschel, that he was a lawyer from Toronto.  He and his friends gave me some great advice, so thanks again Herschel and Larry.  After a quick smoke (unfortunately, many (but not all) of my cigars were rushed) we went out on our own for the first time to Vistamar for dinner.  I hope you like pictures of mojitos in front of the ocean…
The dinner was superlative, the drinks outstanding, and the cost was insanely low.  I had off-menu lobster at the suggestion of my Canadian friends.  What a way to start our stay in Havana.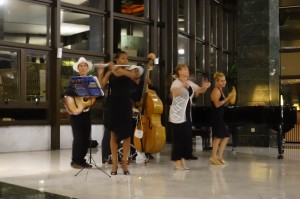 This entry was posted in Brown Sauce, Cigars, Food, History, Sport, Travel by rsiv with