Cuba cigar kit, 5 essentials for travel behind the palm curtain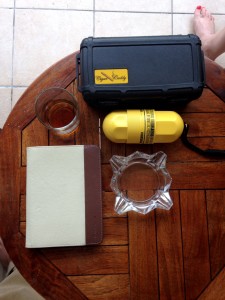 1.)  Colibri Tranzpack.  I throw a few ronsons in this case, along with a budget cutter, and sometimes a punch.  Its a tight fit, but it works.  This saves you some money in country, and also ensures that you have the necessities as soon as you land.  Before I had this, I often was reduced to using a normal lighter when cedar sticks were not available.
2.)  Cigar Caddy.  At home, I use a lock and lock, with a drymistat as a mini/travel humidor.  The cigar caddy has foam to protect the cigars, and is a lot more packable.  I went with the 10 cigar version, which usually fit in my wife's purse.  I was averaging about 2-3 cigars a day, and not buying daily, so the 10 cigar size was perfect for my needs, but CC offers larger and smaller options.
3.)  Phrasebook and Spanish App.  Check out my post, and load it/save on your phone in case you don't have service.  The App works without a cellular/wifi connection, so you can always communicate.  I used the app several times, and can't recommend it enough.  For example, I wouldn't have gotten the ear at the pig roast without looking up how to say, "La oreja, por favor."
4.)  Kindle Paperwhite. Backlit display means you can read through the blackouts.  How else can you enjoy Hemingway while puffing a puro fino?
5.)  Travel wallet.  I'm embarrassed to admit I've used one, but I do recommend it for an American in Cuba.  When you can't use a credit card and can only bring cash, the travel wallet is a must.  I kept about 100 CUCs in my pocket (walking around money), and another 400 or so in the wallet.  That way, you don't pull out too much cash at any one time, but you can cover dinner, a painting, a round, or a box.  It also gives one peace of mind just to know you've got enough for whatever.
This entry was posted in Cigars, Travel by rsiv with