Cuba, A&K P2P, Post #5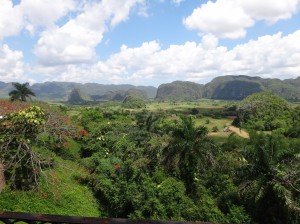 Today we explored Pinar Del Rio and Vinales.  The day started out just like any other, amazing breakfast, packed the essentials (rum and cigars), and headed down.  However, I did wake to a nice birthday note from our guide.  It was very thoughtful, and got the day off on the right note.
We got on the bus and headed out through Miramar, which has lots of beautiful old houses, embassies, and ambassadors' homes.  We had a quick pit stop.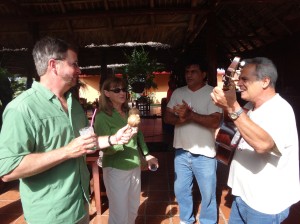 Then we continued into the countryside, and on to the Donatien cigar factory.  Photography was not allowed inside.  I assume this is because the trained eye might be able to ascertain too much information about brand specific blends, etc.  Fortunately, a fellow A&K traveler, Lynn, snapped a few outside and in their cigar store.
I asked about some Trinidad Fundadores, but they were out.  I figured you only live once, so I asked about their Behike's.  The joy you see on my face is mostly about the price.  I think it was about 20 CUCs per.  I was shocked.  I picked up a few.  You can see another of my selections in my hand, HU Mag 46.  After stocking up, we headed out to the country, and had one more pit stop.
After the respite, we headed to Casa de Confianza in Vinales.  Its an organic farm and restaurant perched high on a hill overlooking the landscape.  We had a truely epic lunch on a trip full of amazing lunches.  I expected mostly vegatables, but it turned out to be a full pig roast.  Words don't begin to do this lunch justice, and the pictures barely begin to tell the story.
I pulled out my trusty SpanishDict app, and then said, "Senior, la oreja, por favor."  He cut me the fattiest most delicious piece of meat.  I had already had some cheek, and this might have been better.  Crispy, oily, fatty, and amazing.  The Cubans thought it was awesome that a gringo ate the ear.  My fellow traveling companions were less impressed.  After a huge and amazing meal, way too much rum, and a great time, we checked out the kitchen.  How they got all that incredible food out of that sparse kitchen is beyond me.  Very impressive.  Then we took a tour of the organic farm.  It was an interesting tour.  They said that organic farming used to be the only option available.  Now its more of a tourism decision, as Cubans care more about size and cost when it comes to produce.
Then it was time for the tobacco farm.  We got to meet Benito and his family.  He was quite a character.  The tobacco had already been harvested, and corn was in its place, so we went into the barn.
Benito asked if there were any cigar smokers in the group.  The group yelled my name in unison (guess I had a reputation).  Benito rolled me the pure ligero cigars he enjoys, and I lit up.  Very flavorful, and very intense.  Also, very young tasting, but a great experience none the less.  Then he passed out some more home rolled cigars to the rest of the group that had some more age.  I had one of these later, and it was also very enjoyable.  Benito put out some drinks, and we got to talk.  I showed him a picture of my tobacco on my phone, and he was very excited to talk tobacco with me.  It was a great stop, and while most people probably had their fill, I could have stayed all day.  Back on the bus, we got a surprise for the long ride home.
Havana Club Anejo Especial was first.  This was what A&K/the Melia gave us as a welcome gift, and I was carrying around.  It was quite good, but it was no HC 7, which was next.  Then we moved on to my favorite HC Seleccion de Maestros.  After that, Santiago de Cuba as the grand finale.  Very very good.  But not my favorite (but my 2nd favorite).  The rum tasting was a great idea, and made the time fly.  I had already been over served at lunch (by yours truly), and notice the amount of rum in my cup in the pictures.  Apparently, I was drinking for three, since our guide knew my pregnant wife was not imbibing, and my cup always seemed to be fullest (thanks again Ridlon).  We enjoyed the scenery going into Havana (including the double rainbow), and soon, we were back (thanks again, Havi).
That night, we had dinner on our own.  Our guides had made us reservations at Dona Eutimia.  We took a cab over to La Floridita, of Hemingway fame, and grabbed some pre-dinner daiquiris.
I was in a frat.  I've been known to enjoy a drink or two.  After La Floridita, I was feeling it.  Not so much drunk, but worn out and exhausted.  The promoters trying to entice you into their paladars did not help while we took a beautiful walk down Calle Obispo.  I've heard Hemingway still holds the record for Papa Doble's, 17 in one night, corroborated by his letters to Harvey Breit, letters of those that were with him, and several articles that can be found online.  The modern doble reportedly contains 2 jiggers, or 3 ounces of rum.  At the time, Hemingway says it was 4 ounces, and that he had 68 ounces total that day.  I like to imagine Hemingway had felt about the way I did wandering down Obispo, which he also loved to do.  It was a great moment, and a lovely walk (for more info, and the papa doble recipe, check out to have and have another).  After dinner, we hoped an old cab and headed to La Zorra Y El Cuervo, a highly recommended jazz bar.
After finding the old phone booth, which is its entrance, we descended into the smokey lounge, paid a cover, and got a table.  I lit up a Hoyo de Monterrey Epicure No. 1, and my dad lit up a No. 2 (my current favorite cigar, bar none).  It was an unforgettable day, and an unforgettable night.  This was easily one of the best days of my life.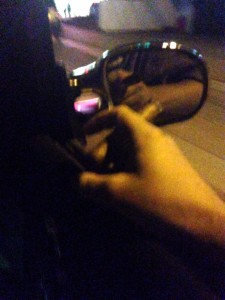 This entry was posted in Brown Sauce, Cigars, Food, History, Jazz, Music, Style, Travel by rsiv with
Warning: count(): Parameter must be an array or an object that implements Countable in /home/bonviv6/public_html/wp-includes/class-wp-comment-query.php on line 405