Memorial Day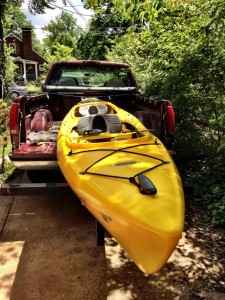 Every Memorial Day we head down to our friend's parents' place in Fredericksburg.  They have an amazing deal on a lake, with a pool, and the company and food is even better.
When we got down, we whipped up some papa dobles, and lit up some cigars.  I chose a Fuente Anejo that has been aging in my humidor for about 6 years.
For breakfast the next day, Winn-Dixie whipped up my favorite: biscuits and gravy.  Delicious.
I don't feel like summer starts until I'm in the pool, hat on, beer tipped.  The fried jalapenos were delicious, but my tum-tum was not too happy with me later…  The pimento cheese was from my parents home town.  Pretty wild.
After a paddle, we had some steak and cheese.  Winn-Dixie used to be a short order cook, so he has some serious cooking skills.  You gotta love a steak and cheese with lots of meat.
After lunch we played some shoes.  I took the kayak out in between rounds.  That evening we made a batch of Death in the Afternoon.  I'm not a huge Absinthe fan, but I did see the appeal.  Its not something I think I'll make again soon, but it was a fun experience none the less.  My buddy Marteen on the other hand was a big fan that night.  Not so much the next morning.
The next morning we woke up to another amazing breakfast, and then lounged around with friends, while enjoying the resort-like atmosphere.
I mixed up some Hemingway-style Tom Collins, which turned out to be very good, especially for the summer.  The addition of coconut water was a stroke of genius, but then again, he was quite the rummy.  We enjoyed the drinks and snacked on some homemade guac.
Later, I made some more papa dobles (you can see why Hemingway compared them to the ocean as the Pilar motored through it), Marteen hit the brown, we watched the 500 and played some cornhole.
Our hosts always put a huge spread together for Memorial day.  Everything was great (not sure why that brat looks green in the picture).
After lunch we threw some more shoes, went back out on the water, and just enjoyed the company, cigars, and view.
Another day, another spectacular breakfast (this time featuring homemade apple butter the host's neighbor makes in a big cauldron during an apple butter party).  Later on, I tried a traditional Tom Collins (I prefer the Hemingway version), Thom hit the brown, and Marteen recovered with some coffee.
The rest of the day consisted of sriracha wings, manwork, and pool volleyball.  We had some great weather this year.  The company was amazing as always, and I can't wait for the 4th.
In the spirit of the holiday, check this out:
http://cigarsforwarriors.org/donation-options/
I thought it was a pretty cool and unique way to support the troops.  Also, if you'd like to know about a not so well known hero, check out the following two links:
http://en.wikipedia.org/wiki/Fred_V._Cherry
http://www.amazon.com/Two-Souls-Indivisible-James-Hirsch-ebook/dp/B004H1UEJA/ref=tmm_kin_swatch_0?_encoding=UTF8&sr=&qid=
This entry was posted in Books, Brown Sauce, Cigars, Food by rsiv with
Warning: count(): Parameter must be an array or an object that implements Countable in /home/bonviv6/public_html/wp-includes/class-wp-comment-query.php on line 405