Cuba, A&K P2P, Post #9
We had an afternoon flight, so after a great breakfast, I hit the sauce and the stogies.
I was able to get my mom to try a puff of the Behike.
I started with another Mag 50, and read a little Hemingway.  After I smoked it down to about the size of the Behike, I did a side by side comparison.  I like both, but the draw and flavor of the Behike were significantly better than the H Upmann.  I took the HU to about the band, and then hit the beach with the Behike and the HC 7.
With one R&J cigar left and two half-full bottles of rum, I ran out of time.  I gave the bottles to our driver for the week, Havi, as well as a few cigars I had leftover (mostly Guantanameras from the Tropicana show).  Then we headed to the Jose Marti Airport for the flight home.
I enjoyed one last cigar in the VIP lounge, and one last Cuba Libre.  I reflected on the amazing time we had in Cuba, and hoped I'd be back soon.  We said goodbye to the friends we'd made, and got on the plane.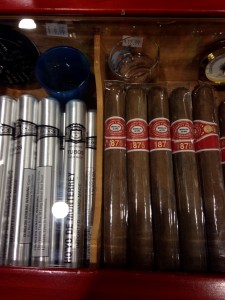 Back at the Hilton in Miami, I found these at the gift shop.  Its like they were adding insult to injury.  However, our vacation was not yet over.  My family has missed many international connections though Miami over the years, so we decided to spend a night in Miami to make sure we made our flight.  After checking in, we took a taxi to Little Havana, and to a restaurant recommended by our first P2P speaker back on the first night in Miami.
A lot of other P2P trips do an excursion in Little Havana.  Its too bad a lot of people on our trip didn't get the opportunity, but we made the most of ours.  After what my dad said was the best sandwich he'd ever had, he asked the owner of the restaurant about Cuba.  The owner was Cuban-American, and had a candid talk with us about his thoughts.  After dinner, we took a walk down Calle Ocho.
After our walk, we had some ice cream, and went back to the hotel to get some sleep.
This entry was posted in Books, Brown Sauce, Cigars, Food, Style, Travel by rsiv with
Warning: count(): Parameter must be an array or an object that implements Countable in /home/bonviv6/public_html/wp-includes/class-wp-comment-query.php on line 405