Cuba, A&K P2P, Post #10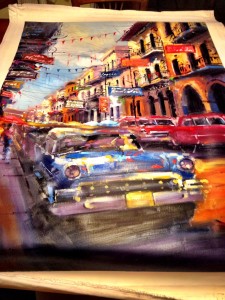 This is the 10th and final post of a 10 part series on my adventure in Cuba.  I've provided navigation below so you can read it in chronological order, as opposed to reverse order, if thats your preference.  Thanks for reading!  Leave a comment or shoot me an email if you're so inclined.
Cuba Trip Navigation (scroll down for day 10 content) (Suggested reading method, open each post in a new tab, start the playlist provided in day 1, light a cigar, pour some rum, enjoy):
Day 1
http://bonvivantva.com/?p=1912  (intro, flight, children's theater company, Cayo de Santa Maria, wow)
Day 2
http://bonvivantva.com/?p=1964  (print shop, Proyecto de Arte Por la Costa, sugar museum, steam train, bicitaxi, beach)
Day 3
http://bonvivantva.com/?p=2170  (Baseball, senior center, danzon compeititon, Havana, Vistamar paladar)
Day 4
http://bonvivantva.com/?p=2300  (foreign services presentation, Muraleando neighborhood community project, architectural walking tour, Casa de Africa, mojito and salsa lesson)
Day 5
http://bonvivantva.com/?p=2451  (cigar factory, tobacco farm, jazz club)
Day 6
http://bonvivantva.com/?p=2694 (Las Terrazas, Dinner at Fuster's house)
Day 7
http://bonvivantva.com/?p=2997  (Hospital, Finca La Vigia (Ernest Hemingway's home in Cuba), Tropicana revue show)
Day 8
http://bonvivantva.com/?p=3155  (cemetery, Almacenes de San José, Sloppy Joe's, Yank Tanks, Hotel Nacional, Jazz Club)
Day 9
http://bonvivantva.com/?p=3366  (cigars, flight to Miami, Little Havana)
Day 10
http://bonvivantva.com/?p=3483  (flight home, souvenirs, wrap up)
If you're planning a trip to Cuba, check out some more advice here, and here.
On day 10, we woke up in Miami, and flew home to DC.
On the decent, we saw some familiar sights, like the boathouse where I row.  When we got home, we unpacked and looked at all the souvenirs we brought home.  Despite only being able to bring home handicrafts, art, and music, we ended up with more this trip than just about any other.
Later, we brought the painting we'd bought as a thank you for my parents over to their house.  They loved it.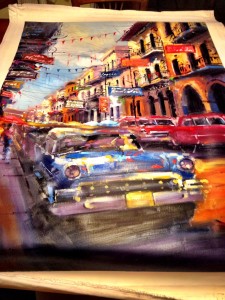 Final thoughts?  This was the trip of a lifetime.  I can't thank my parents enough.  My wife did great there, and her being pregnant didn't slow anyone down at all.  I was very proud of her.  A&K was great.  Their guide, and our Cuban guide, were amazing.  I really don't believe we could have had better guides.  The itinerary was exceptional, and even the parts I thought would just be OK were spectacular.  I wouldn't have changed a thing.  I made a lot of new friends, and had experiences I'll never forget.  If you're considering going on a Cuban P2P trip, go, and go now.  If you're thinking about going with A&K, I highly recommend them.  I can't wait to go back.
This entry was posted in Food, History, Style, Travel by rsiv with