CUBA! Abercrombie and Kent People to People Review, Trip Post #1, Tons of pictures, Itinerary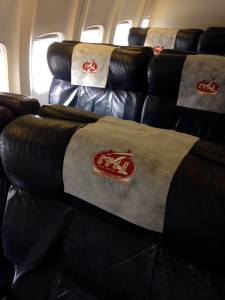 Links to each post (the trip is broken down by day) about my Cuban Adventure are provided at the bottom of this post (Suggested reading method, open each post in a new tab, start the playlist provided below, light a cigar, pour some rum, and enjoy).
About a week ago, I got back from Cuba.  It was the trip of a lifetime.  Let me start my explaining how and why I went.  Three years ago, my mom got to travel to Cuba as part of a medical delegation.  It was not a tourism trip, but she did get to have dinner at a Paladar (privately owned and run restaurant, an example of capitalism in Cuba, and the first such business to be privatized in Cuba), go to some museums, and tour old Havana.  She had a great time, and I was very jealous.  I found out about legal travel to Cuba via People to People trips, and did some research.  A&K seemed to have the best reputation and itinerary, so for my 30th birthday, we booked a trip.  The journey began with a short flight to Miami.
While in Cuba, there were amazingly talented musicians everywhere.  In order to get the full Cuban experience, please enjoy this playlist as you read my Cuba posts:
I'd also like to add that P2P trips are not tourist trips per say.  Essentially, you're committing to a mandatory full schedule of educational excursions.  It was not a relaxing trip compared to say a typical beach vacation.  The pace seemed fine for people of all ages, but if you just like to lay around and recharge while on vacation, this trip is not for you.  Everyone in my group had an amazing time, and I'd love to go again.  If you found my blog by searching for Cuba P2P trips, book with A&K.  You won't regret it.  I hope y'all enjoy my posts.
At our introductory meeting, you could already tell it was going to be an amazing trip.  Open bar, enthusiastic guide, comprehensive to do and not to do list, and informative Q&A.  We also heard from our first P2P contact.  A Miami native of Cuban descent spoke about the diaspora in Miami, their values, beliefs, politics, etc.  It was very informative and enjoyable.  One could also tell that the other travelers were going to make the trip that much better.  My wife and I were the only couple in our 30s, but there were a few others between our age and my parents'.  However, most were about my parents age or older, but all were very fascinating and asked great questions.  Another unexpected advantage of going with A&K is the quality of your traveling companions.  The next morning we headed to the airport for the flight to Cuba.  It was a very normal airport experience.  I was mistaken for a Cuban by an old Cuban gentleman, which made my day.
Above is our first view of Cuba.  On the flight, I made a friend (for legal reasons, lets call him a forced acquaintance).  He sat next to me, and was quite a character.  He was an American visiting family in Cuba.  He brought a bottle of Rum from Barbados, and proceeded to drink about half of it on the very short flight.  He smoked an e-cigarette until the flight attendant chewed him out.  He had the long fingernails of a guitar player, but I started thinking perhaps they were for snorting as opposed to strumming.
After customs, the group got the bags, and headed for the door.  Our guide was overburdened, so I offered to roll his bag for him.  He accepted.  As I walked toward the exit, I was stopped by security.  They asked me to wait.  I did.  They asked me to step into another area, and I complied.  Then they asked me to open my bag.  I explained that I could not, as it was padlocked, and not mine.  They were not at all happy about this.  Then I looked over, and my buddy from the plane was also being searched.  I was starting to think the trip might be over before it had begun, or at least, that my accommodations might change.  I kept my cool, as I had done nothing wrong, and eventually, our guide came back, and was able to explain the misunderstanding.  As it turns out, he was carrying some blank canvases as a gift, and customs simply wanted to provide him with some documentation so that he could get completed works out of the country at his time of departure.  When I finally got back to the bus, which I had held up, there were many jokes about how perhaps I shouldn't dress like a narco, and ¿Cómo se dice, "its not my cocaine"?
We headed to our first P2P experience in Cuba.  It was a children's theater in Santa Clara, and we got to see a show about the many different cultures and dance styles in Cuba.  The theme of which was about equality.  It was also our first experience with Cuba's infrastructure and ingenuity.  There was a big rain storm, and the power went out.  The teachers managed to get their apple macbook hooked up to some speakers they powered via a battery, and the show went on despite the outage.
It was an interesting experience, and the kids were talented.  It was a good way to get the group participating and dancing, as its hard to turn down a cute kid, especially when you don't speak the language.  After the theater, we headed to the Melia Buena Vista Cayo de Santa Maria.  Its an all inclusive hotel that is out on an island, which is connected to the mainland by a long causeway/bridge.  Since we had still not exchanged any money, it was nice that everything was included.  We settled into the room, walked down to the beach, grabbed a beer from the mini fridge, and then hit the bar.
I ordered a double of Havana Club seleccion de maestros neat.  Our guide came, and explained in detail the genesis of said bottle, and suggested all the other guys on the trip have a glass.  Then we moved on the the Santiago de Cuba Once.  It was a little sweeter than I generally prefer, but I found it to be a fine after dinner drink, and great compliment to a cigar.  I grabbed a couple Monte #4s, and a few Joyitas (mini-panatelas) for a quick smoke.
That night we had an amazing dinner, which somehow, I don't have any pictures of.  I was seated next to a lady from Annapolis.  We started a conversation about our favorite Caribbean islands that spread to our whole side of the table.  The consensus seemed to be that I had to try St. Barths, and St. John.  My vote was for Barbados.  After a leisurely dinner with plenty of rum, we went to see some dancing.  I lit up one of the joyitas, and polished off a glass of Once.
As we watched the show, I kept thinking about how amazing the cigar and rum was, and about how crazy it was to be in Cuba.  The group was great, the guide was great, and I couldn't have been more excited.  I was overwhelmed.  I remembering thinking, "Wow", to myself.  Not my most eloquent or articulate moment, but as I said, I really was overwhelmed by the experience.  At about 11:30, we called it a night, as we had a very early morning.
Author's Note:  I have a lot to write, before I forget.  I intend to edit and add links as I go.  This is a work in progress as long as this note remains.  Thank you for your patience, and check back for updates.
Cuba Trip Navigation (Suggested reading method, open each post in a new tab, start the playlist provided in day 1, light a cigar, pour some rum, enjoy):

Day 1
http://bonvivantva.com/?p=1912  (intro, flight, children's theater company, Cayo de Santa Maria, wow)
Day 2
http://bonvivantva.com/?p=1964  (print shop, Proyecto de Arte Por la Costa, sugar museum, steam train, bicitaxi, beach)
Day 3
http://bonvivantva.com/?p=2170  (Baseball, senior center, danzon compeititon, Havana, Vistamar paladar)
Day 4
http://bonvivantva.com/?p=2300  (foreign services presentation, Muraleando neighborhood community project, architectural walking tour, Casa de Africa, mojito and salsa lesson)
Day 5
http://bonvivantva.com/?p=2451  (cigar factory, tobacco farm, jazz club)
Day 6
http://bonvivantva.com/?p=2694 (Las Terrazas, Dinner at Fuster's house)
Day 7
http://bonvivantva.com/?p=2997  (Hospital, Finca La Vigia (Ernest Hemingway's home in Cuba), Tropicana revue show)
Day 8
http://bonvivantva.com/?p=3155  (cemetery, Almacenes de San José, Sloppy Joe's, Yank Tanks, Hotel Nacional, Jazz Club)
Day 9
http://bonvivantva.com/?p=3366  (cigars, flight to Miami, Little Havana)
Day 10
http://bonvivantva.com/?p=3483  (flight home, souvenirs, wrap up)
If you're planning a trip to Cuba, check out some more advice here, and here.
This entry was posted in Brown Sauce, Cigars, Travel by rsiv with
Warning: count(): Parameter must be an array or an object that implements Countable in /home/bonviv6/public_html/wp-includes/class-wp-comment-query.php on line 405