Boozing your way though the World Cup, Father's Day, Red Butcher's 100 day dry aged bone-in ribeye, American Outlaws at Laughing Man DC
I went to total wine to get some beer for Father's Day, and ending up getting just about enough beer to fill a World Cooler (trademark me) to get us through all the games until Sunday.  I had a Brazilian beer (Xingu, a delicious black lager), and then some tequila (shown above) for the first two games.  The first game I got to watch with my dad was Spain v. Netherlands.  What a game.  Then, instead of beer, we went with Sauv Blanc for Chile v. Australia.  The choice in drinks had more to do with convenience/taste preference than which team we were rooting for.
After a break for some La Caraqueña and a caipirinha, and a trip to the butcher for some 100 day dry aged bone-in ribeye, we got back to soccer.
I added some more ice to the World Cooler, and then gave my dad some of his Father's Day presents.
The ball shown above generates power during play, and then can be used as a reading lamp after.  For every one you buy, they donate one to kids who do not have power, and therefore, no light to read by at night.  We kicked it around until we were sufficiently embarrassed, and then enjoyed some more matches and beer.  On the actual day of Father's Day, we started with some milky, opalescent, absinthe.  We salted the steaks, and got the grill hot.  France and Argentina had games that day, so the wine was flowing (La Albiceleste are my #2 team).
The steaks were insane, and good times were had by all.  After Father's Day, my boozing streak came to an end when I was at the dentist, and then working, while Germany played Portugal.  I had some white port and tonic ready, but was too busy to enjoy any.  I wish I'd seen and boozed though that game, but Nigeria v. Iran would have ruined the streak anyway.  The wife and I were able to get to Laughing Man in DC for the American Outlaws viewing of USA v. Ghana.  It was so much fun/so crazy, we might go back for USA v. Portugal.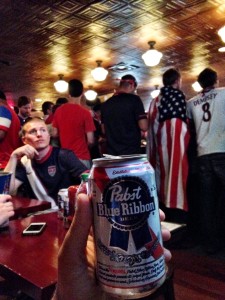 This entry was posted in FCC, Food, Meat, Sport by rsiv with