World Cup! US Match Schedule, Predictions, Links, Who I'm rooting for, Another reason the US won't get behind soccer, etc.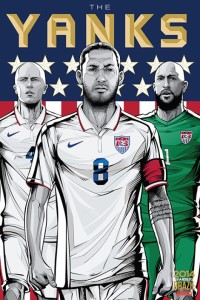 The World Cup has begun.  Last night's game between Brazil and Croatia was exciting, but Brazil did not look to be in top form.  I would imagine there were a lot of first time World Cup watchers from the US, but I'm concerned that after last night's officiating, there won't be many repeat watchers.  If you didn't catch the game (spoiler alert), the ref missed a Brazilian dive in the box, and awarded a penalty shot that completely changed the momentum of the game in Brazil's favor.  Check out this article about diving and American viewership here.  It touches on the basics of what I just described, but really only scratches the surface of how players are incentivized to dive, and how FIFA is just letting it happen.  Further, Americans will not learn to live with diving.  I don't know if its American pride, or what, but Americans will not be able to get past the diving issue.  I don't think the cheating aspect of diving is the issue.  For example, we love juiced up MLB players that drop ball after ball over the fence.  The difference is that steroids constitute cheating that makes one better.  Diving/simulation is cheating that makes one look weaker/worse.  Americans will watch diving in the World Cup and wonder why the rest of the world enjoys watching shameless effeminate foreigners pretend to be injured.  I don't know what the best solution is, but I know the issue could be resolved via fines, instant replay, etc.  I hope FIFA does something, and does it soon.
Now for the more fun stuff.  Lets start with the US group schedule:
6/16 USA v. Ghana  (I'll be at laughing man in DC with the American Outlaws)
6/22 USA v. Portugal
6/26 USA v. Germany
Other games I wouldn't miss in the next few days:
Today/Friday:  Spain v. Netherlands 3pm EST.  Saturday: England v. Italy 6pm.  Monday:  Germany v. Portugal 12pm.
If you're a US fan looking for another team to get behind, my first suggestion is to look to your family tree.  My wife roots for Italy, and I hate Italy, which makes the games more fun.  My roots are Scottish, English, and Irish, so I should probably root for England, but I don't.  As a contender, I like Argentina.  I'll have my Maradona jersey on and a Quilmes in my hand for the matches.  As an underdog, I like Chile.  When I was in Chile a few years ago, I hunted down a Camisa Roja in Santiago, which was more difficult than one would expect.    Both are American (South) teams, and I like when the europeans get taken down a peg.  They have all the best leagues, and the euro cup final, but when South American teams win the world cup, it proves that they aren't the big dogs after all.
For US coverage, ESPN is good, but I like this blog.
For an interesting prediction bracket, check out this site.
For books to read during the cup, check out this one, and for the die-hard, this one.
Enjoy the matches, and good luck!
This entry was posted in Sport by rsiv with