The Hemingway Tom Collins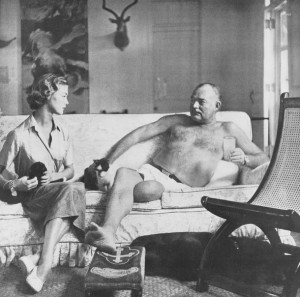 I just got back from Cuba, and finished reading Islands in the Stream.  In the book, Hemingway enjoys a Tom Collins, with his own spin on the drink.  For a car trip from his Finca to Havana, he has his house man fix him a Tom Collins a la Hemingway:
2oz London dry gin, 3/4oz lime juice, 2-4oz coconut water, 2-3 dashes angostura bitters.  Bonus points if its a roadie, wrapped in a paper towel, held in place with a rubber band.
If you're unfamiliar with a traditional Tom Collins, Hemingway's version basically substitutes lime for lemon, and adds coconut water.  While reading the book, I was unconvinced that gin and coconut water would pair well.  I like both individually, but they don't sound appealing together.  However, after I finished the book, and I was going though, To Have and Have Another, I saw the recipe again, and decided to give it a try.  My first impression is that the lime (instead of the traditional lemon) is a substantial improvement.  However, its the coconut water that really sets the drink off.  Its very subtle.  At 2 to 4+ ounces, the coconut water does not overpower the other flavors, and is really in the background.  I also find that it makes the drink much more refreshing.  If one were to enjoy just one cocktail all day, I don't think it would matter much what was in the drink, but if going on a marathon drinking binge a la Hemingway, especially if in the tropics out on a boat, a little coconut water goes a long way.  For the uninitiated, coconut water is nature's sports drink.  Its has more potassium and electrolytes than gatorade, without the bane of Hemingway's existence, excess (added) sugar.  This summer, if you're out on the stream on the flying bridge of your fishing vessel, out on an adventure, at the pool, or just chillin at home, try fixing up the Hemingway Tom Collins.
This entry was posted in Cocktail Recipes by rsiv with
Warning: count(): Parameter must be an array or an object that implements Countable in /home/bonviv6/public_html/wp-includes/class-wp-comment-query.php on line 405