First Solo Row, Thompson Boat Center, Georgetown, Sculling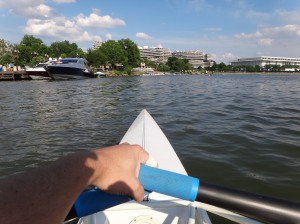 My rowing buddy was busy with softball (where is that team you promised us Ryry?), but it was too nice of a day to pass up.  I drove over to Gtown and hit the water.
I decided to go around the far side of Roosevelt Island.  The bridge openings are a little more narrow, but fortunately there wasn't much traffic on the water today.
Above is a beautiful view of Virginia that you can only get from DC.  Below, a picture of the Lincoln Memorial, as promised.
I opted for the Maas 24 this time.  The water was calmer than last time, there was much less debris in the water, and its not my first row of the season.  Its a good thing I wasn't in anything smaller.  Once I got out past Arlington Memorial Bridge, the no wake zone ended, and it was much choppier.  I think Memorial is the rental boundary, but I remembered that a little late.  Got some nice views though.
Enjoying some brief shade under Teddy's Bridge.
The buoy above is the one that took out Ryan and put him in the drink.  I was especially careful in avoiding it.
After about an hour, I docked and called it a day.  Can't wait to get back out there.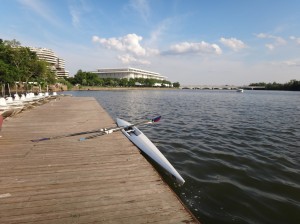 This entry was posted in Sport by rsiv with
Warning: count(): Parameter must be an array or an object that implements Countable in /home/bonviv6/public_html/wp-includes/class-wp-comment-query.php on line 405