Catchup, Unos, Pemdenwall Cottage, How much inches is pipe?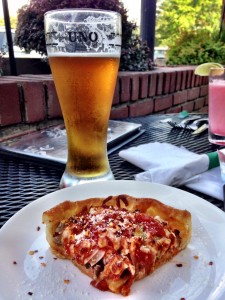 It was a nice polar vortex kind of summer day, so the wife and I enjoy some Uno's al fresco.  It was a very pleasant time, but I wouldn't want to be driving home with the happy hour crowd.
Later, I enjoyed some pipe tobacco my uncle Lemuel gave me, and listened to some bluegrass.  I pulled about my Savinelli churchwarden, and poured a glass of Weller 107.
Then we enjoyed another weekend at Pemdenwall Cottage (the hottest B&B reservation in VA).  As soon as we arrived, the head chef fixed up a huge mess of cheese fritters.  As you can probably guess, they were amazing.  Winn Dixie was slightly offended that we didn't finish off all 13 pounds of them, but we did what we could.
Just about the time we could start thinking about more food, Winn Dixie got lunch going.  Homemade fries with sriracha aioli, and burgers on ciabatta.  Later that night, we enjoyed some stogies, a nice fire, the hot tub, new friends, and dragon berry rum daiquiris (thanks Jeronimo).
Breakfast (promptly at 9, or Chandler time for Ryry) was delicious as always.  Winn Dixie's biscuits and gravy is literally my favorite breakfast, so I was quite excited.
Some of us weren't in tip top shape, but luckily, the floor and a blankly weren't out of reach.  Things got a little weird when Bentley may or may not have been rubbing on Jaymo's (spelling?) feeties.  After the foot settled our tumtums, we hit the pool, had some more beers, and caught some dragonflies.
After another relaxing and amazing weekend (thanks again Pam-el-a and Winn Dixie), we enjoyed a pleasant ride home in the drop top.
Above is the future site of Winn Dixie's Diner, General Store, Tobacconist, and Sriracha aioli outlet.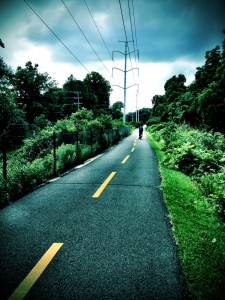 When we got home, I tried (unsuccessfully) to work off all the delicious food…
This entry was posted in Food by rsiv with
Warning: count(): Parameter must be an array or an object that implements Countable in /home/bonviv6/public_html/wp-includes/class-wp-comment-query.php on line 405