Hemingway Hamburger, join me at Finca Vigía for supper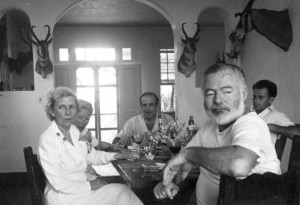 After getting back from Cuba, I stumbled across a recipe for Hemingway's favorite burger.  Its pretty involved by current American backyard grilling standards.  Even though I don't have someone to fry one up for me, I was excited to give one a try.  I invited some friends over, poured some Spanish wine, and got cookin'.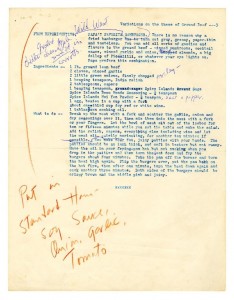 My interpretation of the original document, recipe linked above, and a few other sources provided below (I doubled the recipe to make Hemingway sized burgers):
1 lb lean ground beef
2 oz. sliced ham, minced
⅓ cup dry red wine
¼ cup grated cheddar
2 tbsp. capers, drained
2 tbsp. grated tart apple
1 tbsp. minced parsley
1½ tsp. ground sage
1½ tsp. India relish
½ tsp. Beau Monde seasoning
2 cloves garlic, minced garlic, minced
2 small scallions, minced
1 egg, beaten
Kosher salt and freshly ground black pepper, to taste
1½ tsp. Mei Yen Powder**
** Spice Islands discontinued its production of Mei Yen Powder three years ago. If you don't have any in your pantry, here's how to recreate it:
9 parts salt, 9 parts suger, 2 parts
MSG
If a recipe calls for 1 teaspoon Mei Yen Powder, use 2/3 tsp of the dry recipe (above) mixed with 1/8 tsp of soy sauce.
While I fixed up the burgers, Ryry made HW and me a julep.  If you're looking to be more authentic, maybe try a Hemingway Tom Collins.
The burgers turned out great.  I highly recommend the recipe.  To celebrate our success, we broke out the pipes, and had some real talk.
More info here and full recipe here, and another blogger recreated the burger here.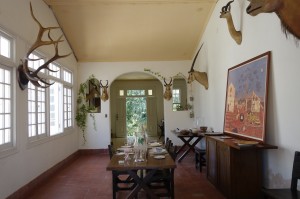 If you liked this post, search, "Hemingway" in my search bar to find more posts about his writing, recipes, and my trip to his house in Cuba.
***UPDATE:
After talking with Ryry and HW about how to improve when I fried up the leftovers, I tried toasting the bun in butter in the pan, and then spreading a little mayo on the bun.  It was a marked improvement, and definitely worth trying, after trying the authentic version.
This entry was posted in Food, History, Meat by rsiv with
Warning: count(): Parameter must be an array or an object that implements Countable in /home/bonviv6/public_html/wp-includes/class-wp-comment-query.php on line 405