Trio Grill, Merrifield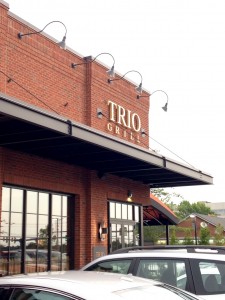 The wife had a particularly good day at work, so we decided to celebrate at Trio Grill.  I ordered a sunset in Brazil cocktail.  It was pretty dang good.  I don't think I've ever had a cocktail that wasn't excellent at Trio.
I ordered the rack of lamb.  Its cooked Sous-vide to your liking, and then finished on the grill.  I wouldn't say this is my favorite meal, but its pretty far up there.  I've had it at least four times now.  Each time I go to Trio, I try to branch out, but then I starting thinking about how good the lamb is…  The fried brussels sprouts are an excellent compliment.  My wife opted for the waygu flat iron topped with foraged mushrooms.  Also amazing.
Trio also has an outdoor cigar lounge, but it was a little humid out this evening.  When I went for the opening, I did enjoy a nice stick and a few drinks, so I can definitely recommend Trio as one of the few places in the area to enjoy a stogie.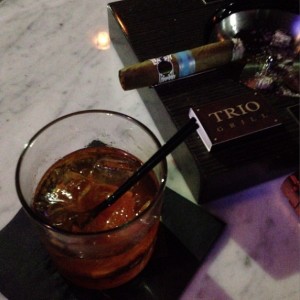 If you're in the Merrifield area, give Trio a try.
This entry was posted in Cigars, FCC, Food, Meat by rsiv with
Warning: count(): Parameter must be an array or an object that implements Countable in /home/bonviv6/public_html/wp-includes/class-wp-comment-query.php on line 405