Nauti Foods DC, Potomac Food Boat, Review! (location, and how to get to it)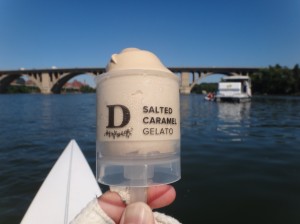 On Friday, I headed to Georgetown for a row, and also for the grand opening of Nauti Foods (the new DC food boat).  I got my scull at Thompson Boat Center, and headed towards the three sisters.  It was after three, but I didn't see Nauti Foods, and feared the worst.
After some more rowing, I spotted something in the distance.  At first it looked like any other pontoon on the Potomac. But…
…it was Nauti Foods!  I quickly realized that my choice in craft was not well-suited for curbside service.  Fortunately, the kayakers pictured on the left extended an oar, took my money, and ferried my cash over to the SS Nauti, and brought my gelato back.  Can't thank you guys enough!  I definitely couldn't have enjoyed my gelato without the help of the Nauti community.  Sorry the pictures aren't better.  Single sculls don't exactly stay upright without the oars extended and in your hands, so fumbling with the oars, money, camera, and gelato was quite a feat (definitely worth it though).
What's better than a nice row on the Potomac on a beautiful day?  A nice row on the Potomac on a beautiful day with salted caramel gelato from Dolcezza Gelato!  I enjoyed the gelato while trying to stay out of the way of boat traffic.  I may have dripped some gelato on my legs, but the vast majority made it into my mouth.  I usually enjoy my Dolcezza gelato at Merrifield, but this was quite the unique experience that made an already amazing gelato taste that much better.
I'll definitely go back to Nauti Foods, but next time, I think I'll rent a kayak, canoe, or SUP instead.
This entry was posted in Food, Sport by rsiv with
Warning: count(): Parameter must be an array or an object that implements Countable in /home/bonviv6/public_html/wp-includes/class-wp-comment-query.php on line 405