Weekend catchup
On Friday, HB and I went to the Eden Center with Ryry and Jodi.  We had squid two ways and plenty of 33.  Good food and good company.  On Saturday, the Beeze and I went to Annapolis in the drop top.
We went to a liquor store on main street and scored lots of good stuff.  Some dusty brown, a Talisker I've never tried, and some Pilar (Hemingway) rum.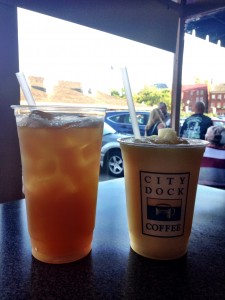 At City Dock Coffee, I had a Jamaican iced tea, which was amazing.  I hope to recreate it.  It tasted like black tea, pineapple juice, all spice, and nutmeg.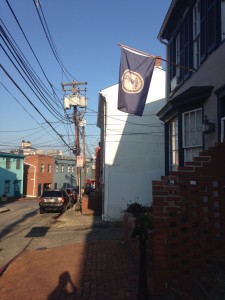 A fellow Virginian representing on enemy soil.  Then it was time for Pusser's.  I had a couple painkiller (#4s) while we waited for an outdoor table.  After being seated, we enjoyed the sunset, and another painkiller.
Below is the ship from Wedding Crashers pulling out of Ego Alley.
This entry was posted in Brown Sauce, Food by rsiv with
Warning: count(): Parameter must be an array or an object that implements Countable in /home/bonviv6/public_html/wp-includes/class-wp-comment-query.php on line 405