The Italian Store Arlington (what and how to order), Windy Run Park & Nature Trail, Very picnic time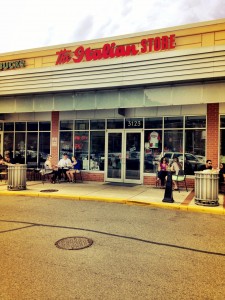 The Beeze and I got hungry again Sunday and headed over the The Italian (I-Talian) Store for some picnic provisions.  After taking a number and waiting for mine to come up, I ordered myself a large milano on hard with extra hot peppers.  Since the wife is off the lunch meat while pregnant, she got a couple of slices.  We rounded out the meal with a couple of drinks, some bbq chips, a nutella to go, and rolled out.
A short drive later we were at the trailhead to Windy Run.  Scrambling over wet rocks while pregnant is not advisable, but we remembered how the trail was a little too late.  HB made out fine though, and we found a beautiful spot for our picnic.
The Milano on hard in all its glory.
This entry was posted in FCC, Food by rsiv with
Warning: count(): Parameter must be an array or an object that implements Countable in /home/bonviv6/public_html/wp-includes/class-wp-comment-query.php on line 405