Paladar Latin Kitchen and Rum Bar, Tysons, Brunch
After a few painkillers last night, HB and I headed to Paladar in Tysons for some brunch.  I started with some pelo del perro.  The dark and stormy settled the rough seas in my tumtum.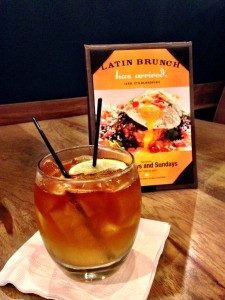 I had the chorizo and cheese pupusas with fried eggs, and HB had the sweet potato pancakes with fruit ceviche.  Both were pretty outstanding.  I've also been for dinner, and can't recommend Paladar enough.
This entry was posted in Brown Sauce, FCC, Food by rsiv with
Warning: count(): Parameter must be an array or an object that implements Countable in /home/bonviv6/public_html/wp-includes/class-wp-comment-query.php on line 405