The Inn At Little Washington, Babymoon Part II
Our next adventure came sooner than you might have thought.  We decided to break up the drive back from The Greenbrier with a stay at The Inn At Little Washington.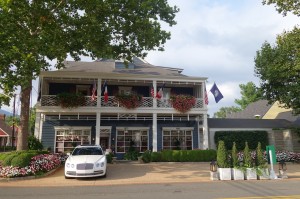 If The Greenbrier was the milkshake of the babymoon, the Inn at Little Washington was the cherry.  That metaphor might work for the aspect of time, but how can one sum up such an amazing and complex experience in one small aspect of a metaphor?  After a beautiful drive though the country, we checked in.  We were given an amazing suite.
There were many nice touches, and even a personalized note from the chef.  After being thoroughly wowed, we dressed for tea.
Under normal circumstances, "best tea ever" might sound absurd, but we had just come from The Greenbrier.
After tea, we had a private tour of the inn and grounds.  Chris was very informative and passionate.  You could tell he loved the inn, and enjoyed telling its story.  Not only did Chris give a good tour, he made sure we were having an amazing time throughout our stay.
After the tour (if you go, definitely enjoy the tour), we dressed for dinner.  Before we were seated, I was given a boutonniere.  After looking around the restaurant, I figured out that the boutonnieres are a subtle and classy way of making guests of the inn easily identifiable.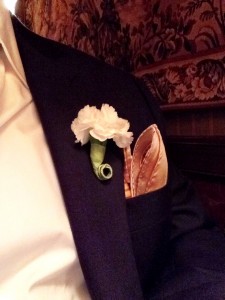 I won't go into detail about the courses, but needless to say, dinner was superlative, and easily the best meal I have ever had.  The marriage of hot and cold foie gras with sauternes gelee and spiced local peaches paired with a glass of Sauternes may have been my favorite, but the veal sweetbreads and lamb were also exquisite.
Best. Meal. Ever.  For dessert, I ordered a glass of Madeira, but since they were out, they offered me a glass of Graham's 40 year tawny port.  It was incredible, and I even made it last until we had a cigar on our balcony.  This might have been at least partially due to our exceptional sommelier, Jess, who's hand was as heavy as his descriptions were vivid and enticing.  When we were finished with our dessert, Chris offered to give us a tour of the kitchen.  As you'll see below, we were able to meet Chef O'Connell!  He was very gracious and very funny.
After I'd finished my port, and my Trinidad Robusto T, it was time for bed.  I've never had all my senses so overwhelmed.  Its really impossible to put the experience into words.  Fortunately, the experience had not yet come to an end.  Breakfast was shockingly good the next morning.  The wife had a parfait, and I had eggs benedict.  Each of the four juices we were able to sample were amazing.
When we finished eating, we took a walk around the grounds.  Its crazy how lucky we got with the weather all week.  We also seemed to be right on time all week.  At The Greenbrier, we were on time for tea, meal, etc., and at The Inn, we arrived just before tea, then were right on time for the tour, which concluded in time for us to get dressed and make our reservation.  When we got to the garden, Jenna (The Inn's farmer in residence), gave us a wonderful impromptu tour.  Again, perfect timing.
Below, you can see our balcony, which was right above the kitchen.
The Inn had really lived up to its expectations.  I can't wait for our next milestone, so we can come back.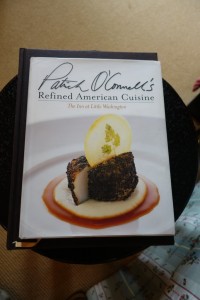 This entry was posted in Brown Sauce, Cigars, Food, History, Style, The I-talian Woman, Travel by rsiv with
Warning: count(): Parameter must be an array or an object that implements Countable in /home/bonviv6/public_html/wp-includes/class-wp-comment-query.php on line 405