Spencer Trappist Ale, First Trappist Beer made in the USA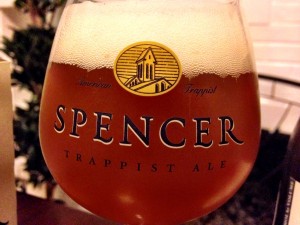 I saw Spencer Trappist Ale on Uncrate, and had to try the first American Trappist Ale.  I was unable to find a local source, so I went to the interwebs.  I found the flavor to be more subtle than other Belgium-style ales I've had.  The carbonation seems higher than other Trappist ales I've imbibed.  Perhaps I'm just not familiar with a refectory ale/patersbier.  Overall, I found the beer to be particularly interesting, very drinkable, and quite enjoyable.  Its definitely unique.  I hope Spencer puts out more styles, for instance, a dubbel, tripel or quad.  I have seven bottles left, but after I go over to my buddy HW's tomorrow, I'll be sure to save the remaining five for special occasions.
From Spencer's Site:
America's First Trappist Beer
Our recipe was inspired by the traditional refectory ales known as patersbier ("fathers' beer" in Flemish) in Belgium. These sessionable beers are brewed by the monks for their dinner table and are typically only available at the monastery. Spencer is a full-bodied, golden-hued ale with fruity accents, a dry finish and light hop bitterness. The beer is unfiltered and unpasteurized, preserving live yeast that naturally carbonates the beer in the bottle and keg and contributes to the beer flavor and aroma.  Spencer is the first and only certified Trappist beer made in the United States.
I also became interested in the difference between Trappist monks and Benedictine monks.  Best I could figure off of google, Trappist monks are more strict.  I was not able to find a reliable source however, so if you know for sure, comment or drop me a line.
More info about Trappist breweries.
This entry was posted in Brown Sauce by rsiv with
Warning: count(): Parameter must be an array or an object that implements Countable in /home/bonviv6/public_html/wp-includes/class-wp-comment-query.php on line 405