Anthony's Falls Church, Grand Reopening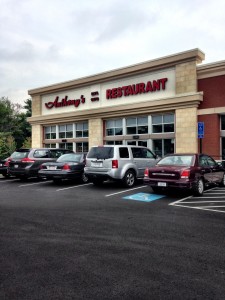 After getting back from an amazing babymoon, it was back to reality.  That means catching up on work, and baby friendly restaurants.  The best iteration of the latter of which just reopened.  It feels like its been sooo long since I've had Anthony's.  It did not disappoint.
I ordered a greek salad (which seemed to be of much better quality than at the old location) and a pizza with bacon, jalapenos, and gyro meat (which was just as good as I remember).  My wife has always been jealous of how the women that work at Anthony's coo over the babies and pregnant women.  Since Anthony's in FCC closed before she got pregnant (and we didn't visit the Manassas location) this was her first chance to show off the bump and the ladies at Anthony's were all about it.
This entry was posted in FCC, Food by rsiv with
Warning: count(): Parameter must be an array or an object that implements Countable in /home/bonviv6/public_html/wp-includes/class-wp-comment-query.php on line 405