Experiential Learning
I posted the other day about starting Bacardi and the Long Fight for Cuba on my kindle.  I made good on my promise of a Cuban themed evening: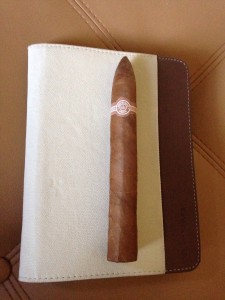 I picked out my last Monte #2.  This stick has been in my humidor for a good while, so it needed to be smoked.  I figured this was as good a time as any.  And because you can't have a Monte without rum (though I'm sure I've broken that rule a time or two)…: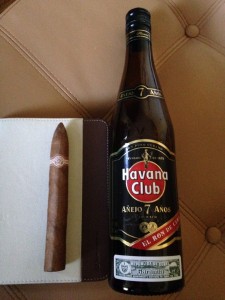 I paired it with some HC7.  I lit up the pyramid took a sip of rum, and got into the book.
All three were amazing.  On the first puff, you get that unmistakable flavor.  Then a sip of the rum gives you a fairly light body, but rich dark molasses, smoke, and spices.  The book kept me turning the pages.
When the cigar got down to about the size of a Fuente WOA, it really hit the sweet spot.  The book got into the 1920s, and I went to find some coke.  I mixed myself a cuba libre (relax, why not) and finished the chapter and cigar.  A great cigar, great rum, and great book made for an amazing evening.
This entry was posted in Books, Brown Sauce, Cigars, History by rsiv with