10 Year Frat Reunion
When I joined my fraternity, it was just starting on my campus.  We got a Charter about 10 years ago.  Last weekend, we went back for the 10 year reunion.
The business school has changed a lot.  I used to go to class on the top floor of a bank.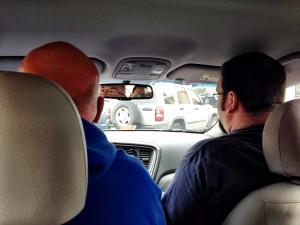 This view brings back so many memories I can't even tell you.
After some fairly intense pregaming, we went to the gala.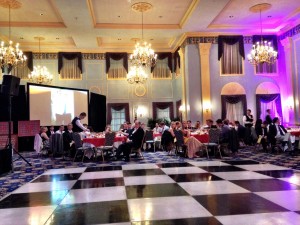 Bobby Light did an excellent job as Master of Ceremony.
JD and Josh both gave really exceptional and heartfelt speeches.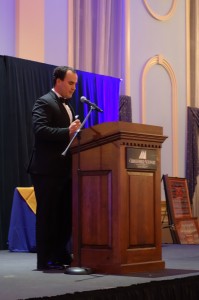 The founding fathers that were present.
House of the Founding Fathers.
Singing the Conclave version of Country Roads.
Drunk dialing Varga (hope I don't end up on standards).
Afterparty at Schooners.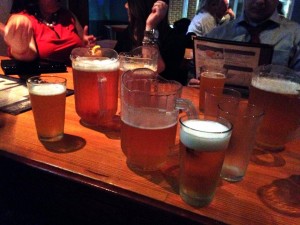 Here's to brother Chad…
Birthday shot of Jager for CW, very corridge time in corridge.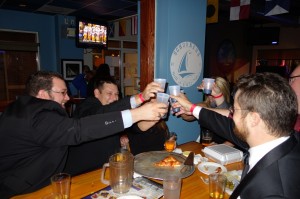 The next morning we awoke to a cold rainy day.  Very Bad News (VA).
We had a fairwell brunch at The Warwick Restaurant.  I got to see my old place.
Jes.  Desperately needed, and delicious.  I wish I had a pic of the group.  We had a huge table in the back.  I was sitting next to Moose, and we cracked each other up the whole time.
It was a really great weekend.  I'm really optimistic about the state of the frat, and damn proud.  I really had a lot of fun hanging out with all the guys, and meeting a bunch of the new ones.  Can't wait for the 20th.
This entry was posted in Brown Sauce, Cigars, Food, History, Travel by rsiv with
Warning: count(): Parameter must be an array or an object that implements Countable in /home/bonviv6/public_html/wp-includes/class-wp-comment-query.php on line 405