Lot of catch up
Got the whip washed.  It looks fresh.  Also had some more fancy beers at Spacebar.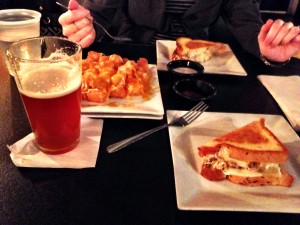 Last Monday The Black Cats were on the telly and I fancied a proper pint, so the missus and I  knocked off work early, bobs your uncle, we're at the pub for a match.  Really I just wanted Sunderland to not cock it up, but we ended up coming away with three.  Brilliant!
We went out to see Nightcrawler (pretty good), and also went to True Food in Merrifield.  Having some healthy food was a nice change of pace.  We'll be back.
Then Thursday, we had a dinner party with friends.
Over the weekend, we went to my sister's place in Alexandria for dinner.  She made some very fall pasta, and a great pie.
This weekend we took it easy.  I watched WV and DC United lose, while Sunderland merely threw away a lead to tie.  Thank God for the Skins' bye.
HB made us some enchiladas which were awesome.
This entry was posted in Food by rsiv with
Warning: count(): Parameter must be an array or an object that implements Countable in /home/bonviv6/public_html/wp-includes/class-wp-comment-query.php on line 405